Rainbow Party Theme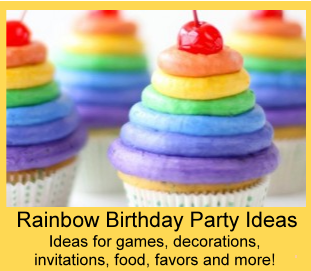 Rainbow theme party ideas for a Rainbow birthday party.
Rainbow party supplies

Birthday party ideas for Rainbow themed invitations, decorations, games, food, party favors and goody bags.

Mix and match these ideas to make your perfect kids party.
Rainbow Party Invitation ideas
Print out party information onto large round labels (find them at office supply stores - cd stickers work too) and stick them onto large (4" or bigger) rainbow lollipops to hand out to invitees.


Instead of large suckers send out packages of Skittles (taste the rainbow!) with party information printed on large rectangular labels.

Invitation or blank cards with Rainbows, clouds, or blue birds on the front.

In the invitation information ask guests to dress in their favorite color of the rainbow or assign colors for them to wear.
Rainbow Party Decorations
Use white table cloths to make the party ware and decorations "pop". Sprinkle party table with rainbow colored confetti, then place a clear plastic table cloth over the confetti. In glass jars place large lollipops, rainbow colored flowers or rainbow colored candies tied with pretty rainbow ribbons.

Using the colors of the rainbow cut crepe paper into 7" lengths and tape them in rainbow color order to hang down over fireplaces, stairways, arches or entryways. Use bright solid color Japanese lanterns or helium balloons tied around the party area. Tie rainbow colored balloons to your mailbox or make a rainbow pathway to your front door using rainbow printed flags, pinwheels or suckers pushed into the ground.

For walls make a rainbow by tying fishing line at two ends of the room (leave enough extra so it makes an arch) and then tying helium balloons to fishing line - the helium in the balloons will lift the fishing line and make it curve upward in the middle. You can also make 7 fishing lines attached 7" apart and tie different colored balloons to each one creating a large rainbow.

Rainbow Party Icebreaker
A fun icebreaker for the Rainbow party is to set up a Guessing Game. In this game guests will try and guess how many Skittles (or other rainbow colored candy) are in a jar. Fill a clear glass or plastic jar with a large bag of skittles. You will have to count them as you put them in the jar - write the number down somewhere so you won't forget. Set the jar on a table by the front door and place pens, pencils and rainbow pieces of paper around it. Have guests write down their guess and their name and then place it in a rainbow colored container or basket with a rainbow bow. Close to the end of the party announce who had the closest guess and that guest gets to take the container home.
Rainbow Party Activities
Rainbow Sand Art
Let each guest fill a sand art container with different colors of sand to make a rainbow pattern.

Decorate t-shirts, picture frames or treasure boxes with paint, jewels, buttons, feathers etc. in rainbow colors or in the guests favorite color.

Make crazy Rainbow colored flip-flops
If your party will be mostly girls this is a fun craft.
See our Funky Flip Flop page on how to make the flip flops. Use different colored flip flops and rainbow colored material.


Rainbow Party Games
Rainbow Switch A Roo
Chairs - one less then the number of players
Color arm bands - different color arm bands. At least 2 of each color. Players wear them during the game. (Or if you can't find arm bands simply assign each player a color.)

For this game the chairs (one less then the total number playing) are set up in an inward facing circle.
The birthday child is the first caller and they stand in the middle of the circle.
The caller stands in the middle of the chairs and calls out to the circle:
"Switch A Roo!"
The players call back
"Switch With Who?!"
The caller says
"Switch If You ...."
Then they call out something that 2 or more players have in common such as:
Switch if you have blue jeans on
Switch if you have brown hair
Switch if you are wearing blue
Switch if you have blue eyes.
Switch if you are the color yellow
Then all the players that match to switch chairs with another player.
While the players are switching chairs the caller races to find a seat.
The player that is left without a chair is the next caller.
The caller can also say "Rainbow" and everyone in the circle must switch chairs at once!
Rainbow Tag
If it's pretty outside and you've got the room to play - this is a fun game!
Object of the Game: To avoid being caught by the rainbow catcher.
First: Choose a "rainbow catcher". They will stand in the middle of a large play area.
, orange, yellow, green, blue and purple. (Don't let the rainbow catcher hear what colors each person is assigned.)
Play: The rainbow catcher then calls out a color.
All the players that have been assigned that color try and run past the catcher to the other side of the play area. The rainbow catcher tries to tag as many of children as they can before they reach the other side.
The kids who are tagged become rainbow catchers and stand in the middle to help tag other players on the next round. Sometimes the rainbow catcher can yell "Rainbow!!" and all the players must try and reach the other side.
The last person caught becomes the new rainbow catcher.


Rainbow Color Scavenger Hunt
Played like a traditional Scavenger Hunt but teams are told to collect items only in their assigned color. Assign colors to teams before they leave.
For rules and directions on how to set up a Scavenger Hunt see our Scavenger Hunt page. 2 different lists of items to find are also included which are free to print out.


Rainbow Treasure Hunt
Before the party buy small items, such as plastic eggs or candies, in the colors of the rainbow. You will need at least 10 of each item in each color. Before the party hide the items around the party room, backyard or park. Assign each guest a color and give them a set amount of time (5 - 10 minutes) to find their assigned color item. They can only pick up and touch items that are their color.
After the time limit the guest who has collected the most items wins a prize. Kids love this game - to continue after the first round .... remove half of the children to a room away from the area where the items are being hidden. Have the remaining children hide the items of the first group. Then call the first group out to find the hidden items. Reverse the order so everyone gets to hide the items and also gets to find them again.


Pot of Gold Treasure Hunt
Instead of the Rainbow Treasure Hunt a great alternative is the Pot of Gold Treasure Hunt. You can hide gold coins all over the play area for the guests to find. On some of the coins write a number in permanent marker and have prizes that correspond with that number. So when a child finds a coin with a number they can turn it in for a prize.

Or you can make a treasure hunt that leads guests through a series of clues to find the pot of gold at the end. See the Treasure Hunt for instructions and ideas.

Rainbow Rain Relay
Play outside because the kids will get wet.
Fill the rain barrels (plastic tubs) with water and set them at the far end of the course. Place two smaller see through plastic jars at the starting point where the teams will line up for the game. Give each team a white sponge (cloud) and tell them that one at a time they will run to the rain barrel, get the sponge wet and then run back to their jar and squeeze the water into it. Then the next person in line takes a turn.
More fun rainbow party ideas can be found on the Unicorn party ideas page! More games, activities and fun ideas!

For younger children you can also play games like Candy Land and Twister. See our Birthday Party Games page for more games.

Party games for ages 7, 8 and 9


Party Games for 5 and 6 year olds


Birthday games for ages 10, 11, 12
Rainbow Party Food Ideas

Cotton Candy (clouds)
Rainbow fruit tray or Rainbow Fruit kabobs - alternate fruit on a plate or a kabob to look like a rainbow - strawberries (red), oranges (orange), pineapple pieces (yellow), kiwi slices (green), blueberries (blue), grapes (purple)
Kool-aid or Sprite (with a little food coloring) in the primary colors of red, yellow and blue in 3 separate pitchers. With these colors you can mix drinks for party guests in any color of the rainbow. Green = yellow + blue, Orange = red + yellow, Purple = blue + red.
Rainbow colored Pepperidge Farm fish crackers
Rainbow sherbet
Set up a rainbow colored ice cream bar with separate dishes to hold different colored candies to top their ice cream.
Let guests decorate their own cupcakes - set out separate dishes of frosting in the rainbow colors. Let them decorate with rainbow sprinkles or other candies.
Rainbow Party Favors
Large suckers
Rainbow colored pinwheels
Skittles
Crayons or paint sets
Kaleidoscopes
Chocolate foil wrapped gold coins
Bagged cotton candy (clouds)


Rainbow Party Goody / Loot Bag ideas
Buy Solid color bags in rainbow colors - tie a pretty rainbow ribbon on the top.
A small black box or pot to represent the pot of gold at the end of the rainbow.