17th Birthday Party Ideas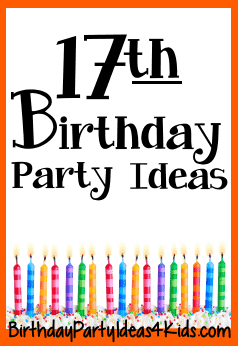 17th Birthday Party Ideas, Themes, Games
17 Year Old Birthday Party Games
Teen Party Games
The best party games that 17 year old like to play!
Teenage party games
Teen Birthday Party Ideas
Venues, where to have a teenage party for 17 year olds, games, activities, scavenger hunts, and more! Teen Party Ideas
Mall Scavenger Hunts
Mall Scavenger Hunts - There are 8 fun Mall Scavenger Hunts to choose from!

All of the Mall Scavenger hunts include a FREE printable list of items to find (if needed).

The Freebie Shopping Spree has a huge item list of 40 items that can be found and collected free at any mall.
Mall Scavenger Hunts include:
Freebie Shopping Spree
a 2 z
Informational
One Color
Super Shopper
Salesperson Scramble
Ultimate Mall Hunt
Rainbow Scavenger Hunt
The BEST Minute to Win It Party Games!
35 of the greatest Minute to Win It Party Games. Easy to play and all use inexpensive items you have around the house. Perfect for 17 year old parties! Great with large or small group parties.
Minute to Win It Games
Would You Rather Game
200 of the best Would You Rather Game questions!

Free questions to print out. The game players are given 2 choices to choose from and they have to decide which one they would rather do! Lots of fun for small or large parties. Two ways to play.
Would You Rather Game
17 Year Old Birthday Party Themes

Our top 17 theme picks are:

1. Sunflower

2. Spa Party

3. Rock Star

4. Neon Party

5. Survivor

6. Movie

7. Charity (use your birthday to give back to others)

8. Peacock

9. Cupcake

10. Dance Party

11. Pink Flamingo

12. Wish Upon a Star

13. Mardi Gras

14. 1980's

15. Two Color

16. Masquerade

17. Pool

Each party theme has free and fun ideas for party invitations, birthday decorations, games, activities, icebreakers, party favors and goody bags.

More themes! 200 birthday party theme ideas
---
Fun Ideas for Seventeen Year Olds


Sleepover and Slumber Party Ideas
If the 17th birthday party includes a sleepover check out our Sleepover and Slumber Party guide! Full of great ideas for sleepover theme invitations, games, crafts, activities and lots of fun ideas!
Truth or Dare
There are 50 fun Truth Questions and 50 fun Dares! Free to print out and use at you next party. Rules, set up, instructions are included on the Truth or Dare page.
Clean, rated G for all ages.
Mystery Dinner Game
This party game is a crazy and different way to serve dinner or snacks. Guests order from a crazy menu where all the food items have a name that gives a clue to what the food will be. The teens won't know what they have ordered until the waiters bring their food.
They order three different times and by the third time everyone at the table should be able to figure out the cryptic food clues and can order knowing what they will receive.
You'll need extra helpers to be waiters that are not part of the party so they can keep the menu items a secret.
Complete instructions, set up and free menu to print out are on the Mystery Dinner Game page.
Party Venue ideas for a seventeen year old:


Bowling
Bowling is fun and when you have all your friends together it can't be beat.

For more fun see our Bowling party ideas page for fun games to play while you are bowling.

Come up with fun awards for different categories like highest score, lowest score, most creative, most entertaining etc. and hand them out at the party.


Day on the Lake
A day filled with boating, jet skiing, water skiing or sunning. Bring along a picnic lunch for everyone to enjoy.


Escape Room
Spend some time with 7 - 10 friends solving clues on how to escape from a locked room.


Gymnastics Gym
Rent out a gymnastics gym and let everyone tumble on the mats, use the trampolines and jump into the foam pits.


Hayride
If the party is during the fall find a local hayride for the party!


Horseback Ride
Go on a horseback ride to celebrate in style. There are many stables that have 1, 2, or 3 hours rides available for groups.


Hotel Party
Spend the night with friends in a local hotel and swim in the pool or have a fun Mall Scavenger Hunt if it's located adjacent to the hotel. Relax with a movie and room service and then have breakfast the next morning in the hotel.


Indoor skydiving
There are many indoor skydiving venues that are great for parties.


Laser Tag
Fun for everyone!


Paint Ball
Paint ball is a fun and active way to celebrate your birthday!


Painting Class
Paint a picture with your friends at a local painting party class.


Rock Climbing
Indoor or outdoor rock climbing is fun for everyone.


Ropes Course
Sign up your friends for a challenging ropes course and see who is the bravest! Great fun and will bond your friendships forever.


Spa Treatment
Relax with spa treatments, facials, pedicures, manicures or facials with your friends.


Special Restaurant
Invite friends to join you at a special restaurant for dinner and a fun time with friends.


Sporting Event
Attend a game of your favorite sports team and enjoy with friends.


Trampoline Park
Gather friends for a fun party at a trampoline park. Everyone loves trampolines!


Water Park
Spend all day at a nearby water park. Most have places and picnic tables to meet up for lunch and have birthday cake.


Weekend Getaway
Invite friends to join you on a weekend adventure to a beach or lake house, a cabin in the mountains, or a fun small town worth exploring.


Zoo
Explore your local zoo with friends. Most zoos have special tours that give groups a chance to see behind the scenes and feed some of the animals.
Birthday Party Ideas for: