Thanksgiving Games / Activities

Party Themes
Birthday Themes
Party Games
Sleepovers
Invitations
---
Dance Party Ideas

Fun dance party ideas for kids, tweens and teens



Birthday party ideas for a Dance theme including ideas for activities, games, decorations, invitations, party food, favors and goody bags.




Dance Party Activities


Dance Styling

Get the guests ready for the Dance party with a new look! Set up several spots where party guests can have their hair glitter sprayed or get highlights with spray in neon colors. Bling them out with glow in the dark bracelets and necklaces, feather boas, Mardi Gras beads, rings and sunglasses.

Fluorescent Dance Shirts
On the Dance party invitation ask guests to bring or wear a white t-shirt (or you can buy them as party favors for the guests). On a table set out lots of different colors or highlighters or glow in the dark pens and let the kids sign and decorate each others shirts. Set up a black light and the shirts will glow in the dark.


Dance Party Invitation Ideas

With a permanent marker write party information on blank CD's. Or print up labels with the party information and place them on the CD's.

Cards with musical notes or dance shoes.

Cut out footprints and paste onto solid color note cards to look like the dance steps below.


Cut black cardstock into large circles and then place a smaller circle in the middle with the party information so that it looks like a record.

Dance Decoration Ideas
Cut out shoe prints and dashes (see picture above) out of construction paper, cardstock or poster board. Tape them on the ground along the walkway to the party.




Set up a dance floor and above it hang a disco ball.

Cut large circles (a dinner plate works well for a template) from black paper. Then attach a smaller circle to the middle so that they look like records - hang the records from the ceiling or attach to the walls in the party area.
Large musical notes can be cut out of paper and hung on walls in the party room.
Blow up lots of balloons for the dance floor so guests can dance in and around them.
Dance Party Games

Dance Dance Revolution, Kinect or any other dance video game
Have a panel of judges selected from the guests who don't want to participate or adults attending the party and let the kids have a dance off. Give prizes not only for the winner but also for worst, most improved, no rhythm, best moves, most dangerous while dancing and most creative.
Teach new dances
Teach old dances to a new generation. YouTube has great videos that can teach you dances from the 50's 60's, 70's and 80's. Some fun dances to look up are the Mashed Potato, The Swim, Funky Chicken, The Penguin, The Locomotion, The Stoll, The Bump, Electric Slide and the Hustle.
Limbo
Doing the Limbo is even more fun with music and some dance moves. Use a broom handle, boa or string for a limbo stick and have two people hold it about 4 feet from the ground to start. With each round the stick will lower 3 - 4 inches. Dancers will try and bend over backwards and go under the stick without touching it. If they succeed then they can go on to the next round.

DJ Roll
As kids come into the party assign them each a number from 1 to 5. Each number should have several people assigned to it. Tell them to remember their number or write it on their hands. During a few of the songs have the DJ roll a dice. The number that comes up on the dice is the number of the group that has to dance - everyone else freezes. After 30 seconds have the DJ roll the dice again and announce another group. If the die rolls 6 then everyone has to dance (or make the parents dance).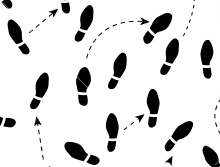 Dance Party Food
Chocolate fountain - strawberries, cut up fruit, marshmallows, cookies
Cookies decorated like CD's
Pizza
Bowls of snack foods like popcorn, pretzels, teddy grahams, etc.
Lots of drinks (use a permanent marker to write kids names on their cups )
Dance Party Favors
Disco ball key chains
A CD mix tape with your favorite songs
Feather boas
Glow in the dark bracelets or necklaces
Cookies decorated like CD's

Dance Party Goody Bag Ideas
Bright colorful bags with musical note stickers
Round boxes decorated to look like a CD
35 Minute to Win It Games
We are always looking for affordable, new and creative ideas! If you have a unique or favorite idea for kids party favors, food, party invitations, decorations, treasure hunt games, birthday party group games, happy birthday wishes, birthday themes or kids birthday party places share them with us!