Valentine's Day Charades Game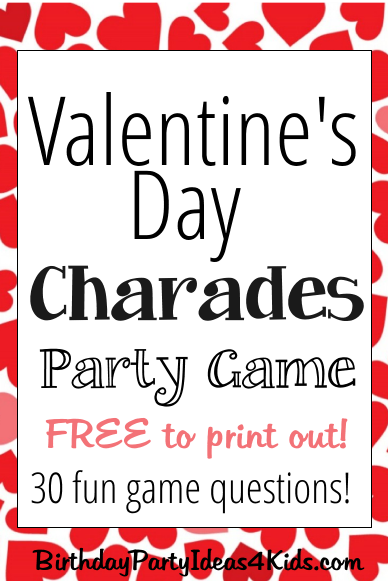 Valentine's Day themed Charades Game! These unique clues are fun and they are perfect for Valentine's Day themed birthday parties, classroom parties and sleepovers!
Valentine's Charades is an easy game to play and is perfect for boys and girls, kids, tweens, teenagers and adults. All that is needed to play the game are the Valentine's Day charade clues below and a large or small group of people.
This is a great Valentine's Day game to play with large or small groups. This game is easy to play, requires a good imagination and keeps everyone laughing and engaged!
One player acts out a word or phrase while the other team members try and guess what they are acting out. See below for several different ways to play the game depending on the group or party size.
Valentine's Day Charades Set Up
Before the Valentine's Day party print out the free game clues below on red or pink paper.
Cut the Valentine's Day Charade game clues into individual pieces.

Fold the paper so that the printed clues can not be seen as players are choosing them.

Put the folded charade clues into a container or bag that is easy to reach into - decorate the container in a Valentine's Day theme.
Players draw a clue from the container before their turn in the game to act out a Valentine's Day Charade.
How to Play Valentine's Charades
Charades can be played two different ways - in teams or as a large group.
The object of the game is for one player to choose a clue from the Valentine's Day charades container without looking at it and act it out for the rest of the players to guess. The player that is acting out the clue can not talk, they can only use gestures.
To play in Teams:
Divide the game players into two teams.
Players should sit on the same side of the room as their team.

Decide which team will go first.
The team going first will decide on a player to act the charade.

The first player chooses a clue from the clue container without looking. The player has 10 seconds to look at the clue before the timer starts.
Set a timer for 1 minute or designate an adult to be the timekeeper for both teams.

The person acting out the Charade has one minute to act out their clue.

They can not talk during their turn.

While the acting player is acting out the charades clue the players on their team tries to guess the word or phrase.

The team can shout out answers until they guess the right answer.
If the team guesses the clue within the time limit their team gets a point.

If they have not gotten the right answer within the time limit the other team has one chance to answer. If the opposing team guesses correctly they get a point.


To play as a group:
Choose one person to start the game,
They choose one of the game charades and act it out for everyone.

The first person to guess the correct Valentine's Day Charade is the next one to act out a clue.

If no one guesses the clue in the allotted time then the timekeeper can choose someone to act out the clue.

Charade Clue Help
These common Charade helps are allowed during the game as long as the player acting out the clue does not talk. The player acting out the clue will usually use them at the beginning of their turn. But be careful using them as they could use a lot of time and you only have one minute for your team to guess the Charade.

Common Charade Helps

Number of words
For charades with multiple words hold up one finger per word then tap the finger of the word that the players are guessing.

Song
Pretend to sing.

Movie
Crank an old fashioned movie camera.

Book
Open book with palms closed then open.

Rhyming Word
Tap on your ear for "sounds like".
Valentine's Day Game Charade Clues
| | |
| --- | --- |
| 1. | Chocolate Kiss |
| 2. | Conversation Heart Candy |
| 3. | 12 Red Roses |
| 4. | Diamond Ring |
| 5. | Chocolate Covered Strawberries |
| 6. | February 14th |
| 7. | Romeo and Juliet |
| 8. | Saint Valentine |
| 9. | Hugs and Kisses |
| 10. | Love Birds |
| 11. | Knight in Shining Armor |
| 12. | Love Song |
| 13. | Cupid's Bow and Arrow |
| 14. | Queen of Hearts |
| 15. | Champagne Bubbles |
| 16. | Secret Admirer |
| 17. | Stuffed Teddy Bear |
| 18. | Love Story |
| 19. | Be My Valentine |
| 20. | Box of Chocolates |
| 21. | All You Need Is Love |
| 22. | Crazy Little Thing Called Love |
| 23. | Friends Forever |
| 24. | Heart Locket |
| 25. | Candlelight Dinner |
| | |
| --- | --- |
| 26. | Roses are Red |
| 27. | Stop! In The Name Of Love |
| 28. | Funny Valentine |
| 29. | Hearts and Flowers |
| 30. | Balloon Bouquet |
| 31. | Puppy Love |
| 31. | Someday My Prince Will Come |
| 33. | Be Mine |
| | |
| | |
| | |
More Fun Valentine's Day Games:

Check out these fun games for boys and girls, kids, tweens and teen parties. All of them are inexpensive and lots of fun! Use them at the school for classroom parties or at a birthday party with friends.
Valentine's Day Minute to Win it Games
Fun Valentine's Day themed Minute to Win it style games that take household and Valentine's Day themed items and make them into quick and easy fun for parties!


Valentine's Day Party Games
The very best Valentine's Day party games for boys and girls, kids, tweens and teens. Many games to choose from the at are perfect for classroom parties.


Valentine's Day Would You Rather Game
Free Would You Rather style game clues that keep everyone laughing and having fun! Print out the questions and get the group to thinking which one of two choices they would rather do.

Valentine's Day Pictionary Game
Fun with paper and pencil when players have to draw a Valentine's Day related item and have other players guess what they are drawing. Easy and cheap - perfect for large or small groups, classrooms or a sleepover party.
And keep these fun games in mind for St. Patrick's Day and Spring parties:
St. Patrick's Day Would You Rather Game


Let us know if we missed any Valentine's Day Games and they will be added to the website for other party planners to enjoy.