St. Patrick's Day Games and Activities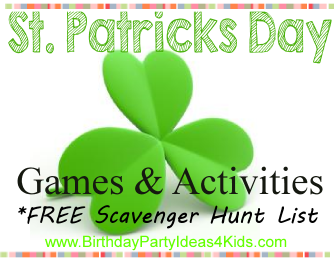 Fun Saint Patrick's Day games and activities including a FREE Scavenger Hunt list with over 25 items to find, St. Patrick Day themed Charades and 3 different versions of Treasure Hunts! St. Patrick's party supplies from Amazon

Great for parties, birthday's, classroom parties or family get-togethers!

St. Patrick's Day party games for kids, adults and school parties.
St. Patrick's Day Would You Rather Game
Fun game for groups or parties with a St. Patrick's Day theme. 30 questions that give players a choice between 2 funny options. Free to print out.
Great for classroom parties.
St. Patrick's Day Would You Rather Game

Leprechaun Rainbow Tag
This is a fun twist on the game of tag.
Set up: Pick one player to be the Leprechaun. All other players will each choose a color of the rainbow (it's ok for several players to have the same color). Make sure that the Leprechaun doesn't hear which colors players pick.
The Leprechaun then stands in the center of a large area with all the players lined up on one side of it. The Leprechaun then shouts the name of a color. The players that are that color then try to run past the Leprechaun to the other side of the field.
The players that the Leprechaun tags become leprechauns and in the next round stand in the center of their field and try to catch players with them. For fun the Leprechaun can call out "Rainbow!" and all the colors have to run across the field at once. The player that is caught last becomes the new Leprechaun.


Saint Patrick's Day Lucky Treasure Hunts
Here are two fun treasure hunts that kids will love! Search for the Leprechaun's pot of gold at the end of the rainbow!


Leprechaun's Pot of Gold
Make up clues that will lead the players from one clue to the next around the house, yard or park. Hide the clues before the treasure hunt begins and make the last clue lead to a Pot of Gold which contains fun prizes such as green bead necklaces, rings, gold foil chocolate coins, etc.

Gold Coin Treasure Hunt
Before the game cut out lots of circles from yellow poster board or cardstock. On each coin write down a number. Buy prizes and assign each prize a number. When the players find a coin with a prize number they can trade it in for that prize (or candy) at the end of the game.


St. Patrick's Day Search
Before the game hide candy and small prizes around the party area. Give each player a plastic bag and have them search for the candy and prizes you have hidden.
St. Patrick's Day theme Charades

Print the Charade ideas onto green paper and cut them out. Fold over and place in a decorated container. Divide the players into two teams and choose someone who is not playing to keep score.
One at a time 1 person on the team will stand up and pick out a charade idea from the container. They then have one minute to act out their charade while their team tries to guess what it is. If their team can't guess the charade then the other team has one guess. If they are right then they get the point.
The first team to reach 10 points wins. Fun game for kids, tweens, teens and adults!
See our
St. Patrick's Day Charades Game
page for a list of over 35 fun Irish themed clues to print out. Also includes full directions and set up for the game.
St. Patrick's Day Pictionary Game
Fun and unique clues that players have to draw for their team to guess! St. Patrick's Day Pictionary Game
St. Patrick's Day Pictionary Game Clues
St. Patrick's Day theme Scavenger Hunt
25 fun items to find!
Divide players into teams and give each team a copy of the Scavenger Hunt list. Assign one team to search odd house numbers and the other team to search even house numbers. Each team also needs a large shopping bag (to carry their items) and a pen (to mark off items collected).
Here are the rules:
* Collect only 1 item from each house
* Each thing on the list is worth 1 point. (Assign more points for harder to find items)
* Time limit (1 - 2 hours) is strictly enforced. 1st team to return within the time limit receives 5 extra points
** An adult must be with each team at all times
1. Box from Lucky Charms cereal
2. Clover - 25 extra points for a 4 leaf clover!
3. Green paperclip
4. Picture of a leprechaun
5. Pot of Gold - can be a picture, sticker etc.
6. Something with a rainbow on it
7. Club (shamrock) playing card
8. Green rubber band
9. Gold covered chocolate coin
10. Item with a Shamrock on it
11. Irish Coffee creamer
12. Green paper item
13. Green crayon
14. Rock - for the Blarney Stone
15. String of green beads
16. Bar of Irish Spring Soap
17. Map of Ireland
18. Green box or bag
19. Can of Green Play Dough
20. Irish Derby (hat)
21. Printed Limerick
22. Potato
23. Irish Setter picture
24. Horseshoe
25. Green Pen or Pencil
26. Green item of clothing
Add your own fun Irish items to find!
Baseball
Bumblebee
Bug & Flower
Lion and Lamb
Puppy / Kitty
Flower
Owl
Half Birthday