Party Craft Ideas
Fun craft ideas for any age kids, tweens and teen birthdays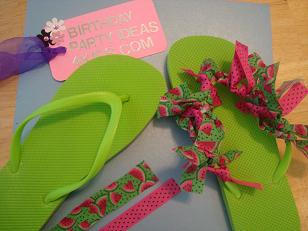 Party Hats
Decorate traditional party hats that the party guests can wear during the party. Buy or make cone shaped birthday party hats. Lay out a fun selection of items that the kids can decorate their hats with including: google eyes, pom poms, fringe, themed stickers, glitter and press on jewels.
Sand Art
Buy sand art containers and let each guest fill up their container with different colors of sand. Set up large containers of each color of sand and give each guest a small funnel and spoon. Let them take home the craft at the end of the party as a party favor.
Face Paint
Every child loves to have their face painted! Before the party come up with a few face paint designs that relate to the birthday theme. Mix up a batch of our homemade face paint from our Face Paint Recipes and let the kids choose which design they want painted on their faces. Be sure to have mirrors available so that the kids can admire their painted face.
Flip Flop Craft
This is a great birthday party craft idea especially for summer and pool parties. Buy inexpensive flip flops in all sizes and colors along with fabric and/or ribbon. Before the party cut the fabric and ribbon into strips and then during the party the kids can decorate their own flip flops in their own colors. Be sure to write their names on the bottom of the flip flops before they begin. Free insturctions and directions on our Flip Flop Craft page.
Paper Bead Necklaces
Paper bead necklaces are fun and stylish! And also very inexpensive to make!! Using colorful magazine pages you cut out a long triangle shape and then roll it into a bead. See the complete instructions on our Paper Bead Necklaces page.
Tutu Craft
Fun and easy to make and the perfect craft and party favor combined into one! Use our easy Tutu Craft instuctions to make no sew tutus. Great for ballerina, princess and 80's parties!
Hair Bow Holder Party Craft


Hat Ideas


Party Recipes


Picture Frame Crafts


Rooter Pom Pom's
Fun
craft recipes
to use at birthday parties including Play Dough, bubbles, face paint and more!