Construction Party Ideas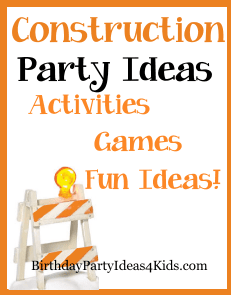 Build a great party for your child using these fun Construction themed birthday party ideas. Construction party ideas for kids birthday party invitations, decorations, party games, activities, party food, favors and more!

Construction Birthday Invitation Ideas

Make invitations with an "Under Construction" logo on the front. Inside write " ______'s party is under Construction!"

Invitations with black and yellow (or orange) stripes.
Paste yellow "Warning" / "Caution" tape to the front of note cards.

On the front of the invitation glue pictures or stickers of construction barriers, hardhats or orange cones.
Construction Birthday Party Decoration Ideas
Set up orange cones leading to the front door.
Make a large sign that says "Construction Zone" and place it on or near the front door with yellow and black warning tape around it.
Make a "Be Prepared to Stop" sign for the street or driveway.
Have two adult volunteers in orange vests, hardhats and holding stop signs (make them out of red poster board ) stand in the street to direct party guests to the house or venue.
Decorate the party table with a yellow tablecloth and black plates, cups, napkins and flatware (or vice versa). Crisscross the yellow and black warning tape across the table. Set out a construction hat (this can double as the goody bag and hold party favors) at each place setting.
On the party table fill new, clean dump trucks with snack foods like popcorn, pretzels or goldfish crackers.

Copy some construction signs onto orange poster boards and hang them around the party area. Or simply print them off the computer onto orange cardstock.

For fun have the parents and helpers wear orange vests or buy enough for all the party guests to wear them.

Ask Home Depot or Lowes for kid size aprons. Most stores will give them to you for free.
Construction party supplies from Amazon
Construction Birthday Party Activities

Construct Recycle Town
Set up an area where kids can build their own town from recycled boxes, tubes, paper and foil. Set up bins of different sizes of boxes, paper towel tubes, etc. that the kids can choose from. Set out glue and kid safe scissors for them to use. You might want to make a few buildings before the party as examples to get the kids started.
Build It
Buy small do-it-yourself building projects such as birdhouses or cars and let the children build something to take home from the party. Have an adult go through the process of building the item step by step with the kids and help them as needed.
Construction Party Games
Worksite Obstacle Course
Set up an obstacle course for the party guests using construction site materials. Set up the "worksite" with obstacles the kids must go through such as a 2x8 board they must walk across, Warning tape in criss cross shapes they must crawl through, Sawhorses they must climb under, paint cans they must zigzag around, etc.
This can be played individually by clocking their time with a stop watch or as a team relay. For older children make the obstacle course more challenging by making them walk the course backwards on the way back.
Earth Mover Relay
Teams must move dirt from one container to another. Set up two piles of dirt or sand (inside a large tub or kiddie pool works great) at one side of the playing field. On the other side set up two see through containers that are equal in size. Give each team a spoon or plastic shovel and one by one they must run to the pile of dirt, pick up a spoonful of dirt and then run back and place it in the see through container. First team to fill their container wins.
Wrecking Ball Pinata
Make a piñata by blowing up a large balloon (a punching balloon would be big and have a nice round shape) and covering it with strips of newspaper dipped in flour and water (it should be a thin paste). Let dry for several days. When dry pop the balloon and paint with silver or grey paint. Fill with candy and small toys.


Boulder or Brick Toss
Make several small bean bags from felt or material and fill with dried beans. Set out two dump trucks and have party guests try to throw as many of the "boulders" or "bricks" in the dump trucks as they can.
Highest Tower
Set out wooden blocks or cardboard bricks and have the kids build the highest tower they can without it falling over. After they build the highest tower see who can stack 15 blocks on top of each other the fastest. You can also play this as a relay game with players from teams having to stack one block at a time on their tower. If it falls over they have to start building from the ground up.
Party Games for 5 and 6 year olds


Party games for ages 7, 8 and 9


Birthday games for 10, 11, 12 years old
Construction Party Food Ideas

Fill a large (new!) dump truck with pieces of chocolate cake and scoops of ice cream. Sprinkle on chocolate sprinkles and/or chocolate candies for dirt and boulders.
Place white 1" tape on orange party cups and turn them into construction cones.
Buy cheap plastic yellow construction hats and use them as bowls to hold party food.

Use new plastic dump trucks to hold party food and bowls.

Fruit kabobs skewered with pretzels

Jell-O Jiggler bricks - cut jigglers out in rectangular pieces and build a brick wall.

Cut out sandwiches, Rice Krispie treats, cookies or brownies with construction themed cookie cutters.

Pretzels - nails
Candy Corn - construction cones
Grapes or Cheese Balls - wreaking balls
Snack mix - nuts and bolts
Chocolate covered Doughnuts - Spare construction truck tires
Wafer Cookies - Lumber
Make a Build Your Own Burger station and let party guests build their perfect hamburger. Can also work with a sandwich or dessert bar.
If serving sandwiches place mayonnaise and mustard in small cans and let guests use a new paint brush to spread on their sandwiches.

Dynamite Drinks - Serve soda in cups and sprinkle in a few pop rocks.
Construction Birthday Party Favors

Pop Rocks
Whoppers
Sunglasses
Plastic tools
Orange construction vests
Small tape measures
Tools
Construction truck
Goody / Loot Bag Ideas

Yellow plastic hard hats
Small plastic tool boxes
Dump trucks
Yellow and black fabric or bandanas to tie up the party favors
Orange plastic cone
Home Depot orange apron