Cars Birthday Party Ideas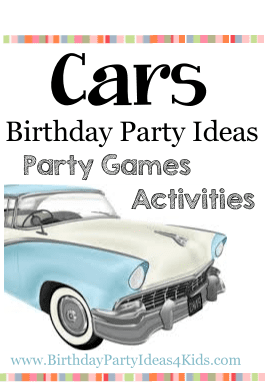 Birthday Ideas that will make a Cars themed party extra special! Perfect birthday party theme for boys and girls of all ages! There are more fun kid's Car Theme birthday party ideas on the Nascar birthday party ideas theme page

Cars Color theme:
Black, White, Red, Yellow or Blue
Cars Birthday Party Games

Relay races are always fun for parties. See our games page for instructions.
Games for ages 10, 11, 12
Cars Birthday Party Activities
Make license plate frames. Paint wooden frames and when dry let kids stick on foam letters and numbers to create their own car license plate.
Make a fun waterless carwash that younger kids can drive their bikes and peddle cars through by cutting 2 dollar store plastic tablecloths (one light blue and one dark blue) into strips on one side and taping it to a large cardboard box or pvc pipe at the top. The guests can drive through the "water" .
Car Theme Party Food
Guests can decorate cupcakes with red, yellow and black sprinkles.
Create a cupcake tower with cupcakes frosted white - place little checkered flags in each cupcake. (You can them yourself on the computer and glue to toothpicks.)
Serve sandwiches cut out with a car cookie cutter or circle (use the top of a glass) and call them tire-wiches.
Oreo cookies (tires)
Jell-O poured into see through cups with Hot Wheels fruit snacks floating in the Jell-O.
Car Birthday Party Favors
Large chocolate bars with large address labels stuck to the back made to look like a license plate. It can read U R G8 (You are great) or U ROCK (You rock).

Hot Wheels cars
Hot Wheels fruit snacks
Travel games
Travel cup with a straw
Key chains and car air fresheners for older guests
Goody Bags
Wrap goodies in checkered fabric and tie with a red ribbon
Hot Wheels Plastic Cup
Cars Party Invitations
Print out a black and white checkered pattern on plain white postcards. On the cards front add party information that you have printed on yellow or red cardstock.
On white blank cards create a license plate with the name of your child or something fun like

TM 2 PAR T
(Time to party),
RC 4 FUN
(Race for fun).
Cars Party Decorations
White and red checkered tablecloths with blue, red and yellow tableware. Or cover the party tables in white butcher paper and sprinkle crayons and hot wheel cars around. Let the guests draw roads, streets and villages on the paper.
Fill round glass containers (like fish bowls) with cars and place a few checkered flags in the center.
Checkered flags
Orange cones
Hot Wheels cars
Place white and black balloons or black and white checkered flags on the mailbox.
Fun Ideas
Set up hot wheels track so the kids can race each other down the tracks.