Dr. Seuss Birthday Party Ideas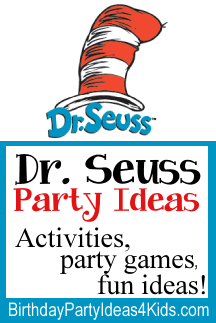 Dr. Seuss birthday theme ideas

Bring the Dr. Seuss books to life with these fun party ideas for kids of all ages! Dr. Seuss
Dr. Seuss Invitation Ideas

Decorate invitations to look like the different book covers written by Dr. Seuss.
See the Cat in the Hat birthday party ideas page for more fun invitation ideas. Party Ideas from our Thing One and Thing Two page.

Download a free Dr. Seuss font from the web to use on the invitations.
Dr. Seuss Party Games

Fox in Socks Stomp
Have guests take off their shoes and then give them each a pair of long adult tube socks to put on. Have them put on the socks so there is at least 5 inches of empty sock at their toes. Then have them try to be the last one with their socks on as they "stomp" on the socks of the other party guests.
Horton Hears A Who Treasure Hunt
Before the party gather lots (and lots!) of plastic eggs (clover) and fill them with candies or small toys. In one of the eggs place a pink pompom ball. Whoever find the egg with the pink pompom ball gets a special prize. Hide the eggs before the party. Give each guest a paper sack to carry the clover that they collect. You can give out one special prize or hide several special eggs.
1 Fish 2 Fish Fishing Game
Decorate a very big appliance box or sheet with the characters from the Dr. Seuss book "One Fish Two Fish". The fish (adults or older children) will hide behind the box and when the kids fish they will attach candy or prizes to the "hook" (use a clothespin to attach the prizes. A fishing pole can be easily made from a broom stick, string and a clothes pin. Kids cast the clothespin hook into the water. Then the "fish" attach a candy or prize to the clothespin.
Left Foot Right Foot Relay Races
Set up some fun relay races with a Dr. Seuss theme:
Make teams and race relay style while:
Trying to run with a blown up balloon between their legs
Using a jump rope
Balancing a few objects like a tea cup, ball and book
Hop on Pop Relay Game
Have two teams of party guests race relay style across the room and back by one at a time hopping across the game area. When they have finished the relay start again by having them do the relay hopping backwards.
Party games for girls - Girls birthday party games
Party games for boys - Boys birthday party games
Party Games for 1, 2, 3, 4, 5, 6, 7, 8, 9, 10, 11, 12

year old - Birthday Party Games
Dr. Seuss Icebreaker
A fun activity to do as guests are arriving to the party is a guessing game. Guests must guess the closest number to how many candies are in a jar. Before the party fill a large glass jar with colorful candies such as Skittles, Jellybeans or M&M's ... if possible fill the jar with red, blue and white candies.
Count the number of candies as you are placing them inside the jar and then write the number down and keep it in a safe place. Close the jar and set it on a decorated table along with pens, paper and a small decorated basket or container.
Ask the guests to write down how many candies or toys they think the container holds along with their name on colorful paper and then fold it and place in the basket. Before the party ends announce the winner. As the prize for guessing the closest number the candy goes home with the winner.
Dr. Seuss Party Activities

See our Cat in the Hat party and also the Thing 1 & Thing 2 party pages for party activities.
Food Ideas
Green eggs and Ham
Fold red and white striped heavy paper into cone shapes then fill with blue cotton candy
Cookies decorated with white and red icing.
Dr. Seuss Party Favor Ideas
Dr. Seuss Books
Kite
Dr. Suess stuffed character
Dr. Seuss activity book or coloring book
Crayons
Goody Loot Bag Ideas
White and red striped hats
Red or blue bags
Red and White striped boxes tied with blue ribbon
Decoration Ideas
Hang kites in the trees outside the party venue.
Print out Dr. Seuss sayings onto cardstock and place them on stakes in the ground leading up to the party area. Hang bunches of colorful helium balloons (Oh The Places You'll Go!) around the party area.
Fill red and white buckets or pails with party snacks such as chips, dips or crackers.
Dr. Seuss Happy Birthday To You Quotes
Today you are you!
That is truer than true!
There is no one alive who is you-er than you!"
- Happy Birthday To You
I am what I am!
That's a great thing to be!
If I say so my self, Happy Birthday to me!
You're never too old, too wacky, too wild, to pick up a book and read to a child.
Today you are you, that is truer than true. There is no one alive that is youer than you.
A Wasn't just isn't. He just isn't present.
But you… You ARE YOU! And, now isn't that pleasant! If you never did, you should. These things are fun and fun is good! Today is your day.
You're off to Great Places!
You're off and away!
Kid you'll move mountains!
Today is your day!
Your mountain is waiting
So.. get on your way!"
Be who you are and say what you feel
Because those who mind don't matter
And those who matter don't mind.