Dragon Birthday Party Ideas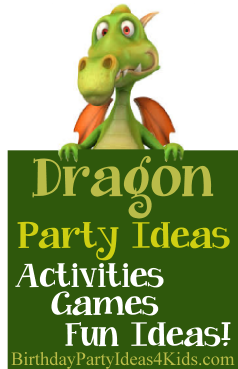 Make dragons come to life with these fun Dragon birthday party ideas for kids. Everyone at the party will enjoy the dragon themed games and activities, party favor, decorations and invitation ideas. There are many fun dragon party ideas that will make the party planning easy.

Fun for boys and girls, kids, tweens and teens ages 1, 2, 3, 4, 5, 6, 7, 8, 9, 10, 11, 12, 13, 14, 15, 16 years old!
Dragon Invitation Ideas

Print out party invitations in an Old English font on brown paper with a dragon clip art image at the top. Roll into scrolls and tie up with a ribbon or twine. Before rolling into scrolls lightly burn the edges of the paper so it looks like a dragon scorched the edges.

Trace a large dragon footprint onto the front of a blank white card. Write party information on the inside.

Print the Dinosaur party invitation information on paper - 5 to a 8x11 sheet. Cut them out and roll into scrolls. Put them inside plastic eggs with some speckled jelly beans for a dragon egg invitation.
Dragon party supplies from Amazon
Dragon Party Decoration Ideas
Cut out dragon footprints out of construction paper or poster board and tape to the driveway and walkways leading to the party (these can also be drawn with chalk).
Make signs that say "Dragon Crossing" and place them near the entrance of the party. On a few of the signs lightly burn the posters to make it look like a Dragon had scorched them.
Decorate the party area in your favorite dragon colors.
Dragon Party Games
Dragon Egg Treasure Hunt
Fill colorful plastic eggs with candies and small prizes - or buy larger prizes and assign them a number and write the numbers to the prizes on the plastic eggs before hiding them. Hide the dragon eggs before guests arrive. Tell party guests that there has been a dragon laying dragon eggs around the party area and then ask them to find them all. Give each guest a paper bag to hold their eggs.


Dragon Tail Tag
Guests line up while holding hands. Players can't let their hands go for any reason. The 1st person in line tries tagging the very last person in line. After the 1st person tags the "dragon's tail" then the "tail" moves forward and then becomes the "tagger". Keep going so everyone gets to become the dragon's tail.

Cross the Moat
Make 5 big shapes from poster board ( about 14" x 14"). Divide the guests into teams. They have only the 5 stepping stones to get across the moat. Players take the pieces and have to move their whole team by team members standing on one piece of paper ... then they take the very back piece. and hand it down the line to the first person. If someone steps in the moat then the whole team goes back to start and begin again.
Party Games for 5 and 6 year olds
Party games for ages 7, 8 and 9
Birthday games for 10, 11, 12 years old
See the party games list which has many more party game ideas
Dragon Party Food Ideas

Bread stick swords

Dragon Wings (buffalo chicken wings)

Dragon scale pizza (easy to do it yourself by arranging pepperoni so it overlaps and looks like dragon scales)
Roast Marshmallows and Hot Dogs
Red hots
Flamin' Cheetos



Dragon Party Favors

Red Hots
Hot Tamales
Treasure hunt items and candy
Chocolate gold coins
Glow sticks and necklaces
Party Goody Bag Ideas
Plastic goblet
Treasure chest
Super large plastic egg that can be called a Dragon egg