Birthday Goody Bags / Treat Bags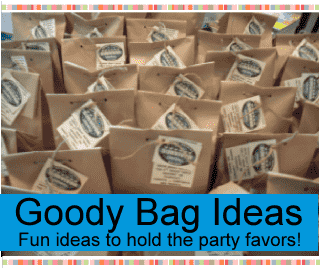 Birthday Goodie Bag Ideas

Birthday party goodie bag ideas or treat bags can be a fun and creative way to hold party favors, party bag fillers and and goodies.
We made these goody bags for a Survivor theme party
Below are some great examples of items you can use to hold birthday party favors with a creative flare. Almost anything can be used as a goody / treat bag / goodie / loot bag.
Use the birthday party theme to create goodie bags that will make the birthday party guests remember the party and how much fun they had every time they look at the loot bag.
Goodie Bag Ideas
Beach Pail / Plastic Bucket
Basket
Tea Cup - for Tea party birthday themes
Upside down hat
Make up cosmetic bags
Small Treasure chest
Plastic Caddies
Clear or printed cellophane bags tied with ribbon
Colorful paper sacks for goodie bags
Paper bags tied with helium balloons
Bandana used as a goodie bag tied around party favors
Chinese take out boxes
Small plastic containers
Plastic themed cups with lids
Flower pot (fill with seed packets)

Plastic themed cups with lids
Flower pot (fill with seed packets)
All of the 200 birthday party themes on the website also have themed goody / treat bag ideas!
Here are a few wonderful birthday goodie bag ideas sent in by our readers! Thanks to all of you!
Plain plastic loot bags covered with stickers from the theme of your party. - Anna - TX
Large cups that the kids decorate themselves during the party and hold their loot. - Louise - NY
Painters apron used at an art party - the front pocket hold the treats. - Anonymous
Piggy banks filled with chocolate coins - Mell, CA
Plastic top hat, filled with goodies including a magic wand. (We had a magic party) - Kadria, Michigan
Fun and creative birthday party favors to put inside the Goody / Treat bags.
Birthday Party Theme Ideas for Kids
Birthday Party Tips for great parties
Fun birthday traditions
for boys and girls