Birthday Party Favors
Ideas for Party Favors for guests to take home from the birthday party

Birthday Party favors are small gifts given out to birthday guests as a "thank you" for attending. They can be given out during the birthday party, as they are leaving or both!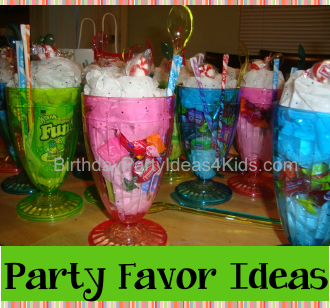 We made these cute party favors by filling tall plastic ice cream glasses that we found for $1.00 with candy.
Place white tissue paper inside the glass (ours had glitter which made it look like sprinkles) and place candy inside the glasses.

Add a ice cream spoon, pixie sticks (for straws) and a red and white candy on top for a cherry.

Party favors can be items used during the party or crafts to make and take home. They can also be small toys or gifts that relate to the birthday party theme and are given out in goody bags as the guests leave the party. Piñata candy is a good party favor and can be given out during the party. Add a few small toys or stickers as the kids are leaving. few pieces of candy, stickers or smaller toy items related to your theme.

Fun and creative ideas for birthday goody bags ... take a look at what can contain these great ideas!
Party Favors and supplies from Amazon

Girl Birthday Party Favors
Spa items (see below)
Makeup
Lip gloss
Nail polish
Necklaces
Rings
Jewelry
Bracelets
Stick-on earrings
Hair accessories
Perfume
Body glitter
Jewelry kit to make at the party


Boy Birthday Party Favors
Yo-Yo's
Super balls
Small sports balls
Hats
Slime
Plastic bugs / animals
Whoopie cushion
Practical joke items
Hot wheels cars
Anything camouflage
Silly string


Tea Party Favors
Our favorite ideas for tea parties are:
Small china (or plastic) teacup and saucer, sugar cubes wrapped in pink toile tied with a pink silk bow, pearls, tiara, charm bracelet, or feather boa, small box of chocolates.


Classic Birthday Party Favors
Silly putty, sidewalk chalk, deck of cards, whoopie cushion, Yo-Yo's, play dough, super balls, cush balls, digital watch, hacky sacks, pencils, pens, small flashlights, sunglasses, blowouts, horns, hats, helium balloons, balloon animals, bookmarks are all great ideas for classic favors.


Princess / Fairy / Dress-up
Tiara, pearls, necklaces, large rings, sunglasses, feather boas, fairy wings, magic wands, body glitter


Sports Party Favors
Sports balls, small footballs, baseballs, soccer balls, basketballs etc, sweat bands, sport bottles, shoelaces, stopwatch, whistle


Tween and Teen Party Favors
Spa items (see below), Jewelry, T-Shirts or pillowcases to decorate at the party, Make up, Nail polish, cosmetic bag, mirror for locker, burned CD of favorite songs, sleeping mask

Treasure Hunt / Scavenger Hunt

Chocolate coins, magnifying glass, small note pads, pens, small flashlight, eye patch, pirate hat, sword, small treasure chest, binoculars




Spa Party Favors

Candles wrapped in ribbon, makeup, fingernail files, nail polish, facial treatments, sleeping mask, lip gloss, toe spreaders, cuticle sticks, hair bands, moisturizers, lotions, perfume



Pizza Party or Cooking Theme Favors

Chefs apron or chefs puffy hat to decorate at the party, pizza look-a-like candies, candle, play-dough pizza kit



Luau Birthday Favors

Flipflops, lei's, sunglasses, coconut glasses, small umbrellas, small sand art project, grass skirt, large Hawaiian flowers




Craft ideas

Decorate picture frames with paint, stickers, foam alphabet stickers, foam cutouts, shells, polka dots, glitter, feather boa pieces, anything related to your birthday theme




Personalized items

Personalize almost anything! This is a fun activity / craft idea for the birthday party too! Picture frames, tote bags, hats, visors, megaphones, pennants, flags, t-shirts,pillowcases, stuffed animals, trinket boxes

Personalize Candy

Personalize candy with large mailing stickers. Print out a colorful design to go with your party theme and stick them on: gum packs, large suckers, mints, plastic M&M containers, candy bars ... anything!




Summer Birthday Favors

flip flops
plastic buckets and shovels
blow-up pool toys
beach balls
sunglasses
tall plastic drink glasses
lei's
small battery fans
lip balm
Fall Birthday Party Favors

Pumpkins
Pumpkin seeds
Leaf art
Small rake
Wheelbarrow
Winter Party Favors
Snow globe
lip balm
mittens
funny holiday socks
slippers
candy canes
ornament
snowman
Spring Party Favors
Small flower pot with seeds
Kite
Sidewalk Chalk
Bubbles
Playground ball
Hula Hoop


Places to find great deals on birthday party favors: Ebay, clearance aisles, dollar stores
Birthday Goody Bag
ideas to hold the party favors