12th Birthday Party Ideas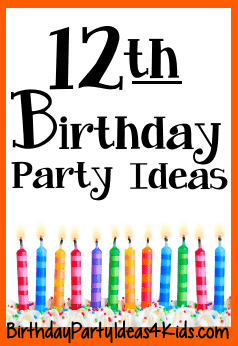 Our favorite ideas for the 12th birthday party! Fun and unique birthday themes, party games, activities and fun ideas.

Perfect for tweens and preteens, boys and girls. See our tween party ideas for more fun ideas for twelve year olds.
12 Year Old Birthday Party Themes
Our top 12 birthday party theme picks are:

1. Art Party

2. Spa Party

3. Rock Star

4. Neon Party

5. Survivor

6. Movie

7. Rainbow

8. Animal Shelter (charity party)

9. Cupcake

10. Dance Party

11. Fear Factor

12. Wish Upon a Star

Each 12 year old theme has fun ideas for invitations, decorations, games, activities, icebreakers, party favors and goody bags.

More themes! 200 birthday party theme ideas
12 Year Old Birthday Games
Tween / Preteen Party Games
12 year old Party Games
Mall Scavenger Hunts
Mall Scavenger Hunts - There are 8 fun Mall Scavenger Hunts to choose from! Great party idea that 12 year olds love! All include a FREE printable list of items to find (if needed).

The Freebie Shopping Spree has a huge item list of 40 items that can be found and collected free at any mall.
The BEST Minute to Win It Games!
Easy to play and all use inexpensive items you have around the house. Perfect for 12 year old parties! Great with large or small group parties of boys and girls.
Tween Minute to Win It Games
Party Ideas for 12 year olds
Fun party ideas for tween and preteen parties
Tween Party Ideas - 10, 11 and 12 year olds

Backyard and Outdoor Group Party Games
Outdoor Party Games
All the favorite outdoor / backyard games including:

Water Balloon Games (over 50!)
Pool Noodle Games (no pool required!)
Beach Ball Games
Hula Hoop Games
and many more!

Fun Ideas

Sleepover and Slumber Party Ideas
If the 12th birthday party includes a sleepover check out our Sleepover and Slumber Party guide! Full of great ideas for invitations, games, crafts, activities and lots of fun ideas!
Mystery Dinner Game
This party game is a crazy and different way to serve dinner or snacks. Guests order from a crazy menu where all the food items have a name that gives a clue to what the food will be. The kids won't know what they have ordered until it arrives.
They order three different times and by the third time all the kids have figured out what the items are and can order knowing what they will receive.
You'll need extra helpers to be waiters that are not part of the party so they can keep the menu items a secret.
Complete instructions, set up and free menu to print out are on the Mystery Dinner Game page.
Icebreaker Games
Icebreaker Games are great for the start of the party to have a chance for the kids to get to know each other and "break the ice" before the party begins. Quick, easy games that get the guests talking and interacting with each other.
Birthday Party Ideas for Kids: