Zebra Party Ideas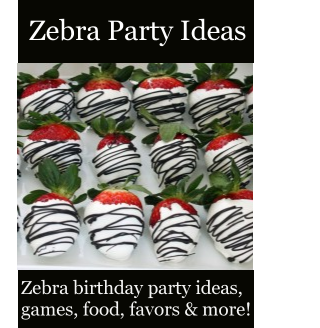 Make these easy zebra striped strawberry's by dipping whole washed strawberries in melted vanilla almond bark and when cooled drizzle chocolate almond bark over the white. Yum!
Zebra theme party supplies from Amazon
Great ideas for a Zebra themed birthday party!

We've collected our favorite ideas for games, activities, decorations, invitations, party food and much more for a zebra theme party! Everything you need to create the perfect Zebra party!
Zebra Party Games
Herding Zebras Game
Each team will need 3 black and white striped balloons and 2 brooms. Team members have to "herd" the zebras (the black and white balloons) - using only the broom - around the party room and back again. If a zebra balloon pops then the herder must go to the starting line, get another balloon and begin again. The team which herds all the zebras with every player on the team wins.
Catch the Zebras Tail
Players will line up & hold hands for the whole game ... the fun is that they can not drop each others hands. After they have lined up tell the party guest on one end of the line that will start and be the Zebras head and the person at the other end of the line is the Zebras' tail. The Zebra's head will try and tag it's Zebra tail ... and they will find it is not so easy with all the guests in the middle of them and the tail! When they tag the tail then they become the tail and the next person at the other end of the line becomes the new Zebra head. Keep going until everyone has caught the Zebras' Tail.

Pin the Tail on the Zebra
Buy or make a big poster size drawing of a Zebra. Cut out tails from poster board (for fun add some black fur to the end of each tail) and number them on the back. Place double stick tape on each tail. Blindfold guests one by one and have them try and pin the tail on the Zebra. The closest to the Zebra's tail on the poster wins a prize.
Zebra Tail Limbo
Use a pink or black boa to play Limbo. Have two guests hold each end of the boa about 4 feet off the ground. The rest of the party guests line up and one at a time try to go under the boa without touching it. After everyone has had a turn lower the boa 6 inches and then everyone tries again. Keep lowering the boa until their is one person who can make it under the lowest height.
More games -
party games
Fun party games for ages 2, 3, 4, 5 and 6 year olds, 7, 8, 9, 10, 11, 12 years old too
Party Icebreakers
See all of our great icebreaker games
here ... Party Icebreaker Games
Party Activities
Zebra Scavenger Hunt
For this fun scavenger hunt give it a Zebra theme by having the party guests search for only objects that are black and white or a combination of both.

See our Scavenger Hunt page for complete directions and list ideas. Zebra scavenger hunt items examples: Oreos, black crayon, white pen, black shoe, white flower, black bow, white shoelace, black, paper clip ... etc.
Zebra Nails
Paint guests fingernails or toenails with white nail polish and then add black Zebra stripes.
Zebra Flip flops
Make Zebra flip flops - great for summertime parties with zebra fabric and black or white flip flops.
Complete instructions and directions
are here for our Funky Zebra Flip Flops
Zebra Party Invitations
Zebra striped cards or make your own by drawing black zebra stripes on white cards with a permanent marker.

Pink (or any color you choose to be your accent color) invitation cards with black and white confetti inside. Make your own confetti with black and white paper and a paper punch.

Dress up plain black, white or pink cards with a piece of zebra ribbon glued to the front.

Add some flare to plain invitations by gluing pieces of feather boas to the top of the cards.
Zebra Party Decorations
Enhance the black and white of Zebra print with an accent color. Hot pink, Aqua blue or Lime green are all great choices to make the zebra stripes "pop".

If you are covering party tables with zebra tablecloths, zebra printed wrapping paper or zebra fabric then the plates, cups, flatware and napkins can be a solid color in your accent color. Or switch it up and cover party tables with your solid accent color and set out zebra printed plates, cups, napkins and flatware - a zebra printed runner would also look great on a solid color table cloth. Silver candelabras and serving dishes add a touch of elegance too. Wrap small white or pink Christmas lights around the party table or centerpiece.
Hang strips of black and white crepe paper streamers (about 12 - 14" long) from door ways, around the mantle, and on the ceiling across walkways. Fill glass jars with black and white rocks and then place in large feathers or flowers for a centerpiece.
Wrap up the mailbox in zebra print paper and tie several strands of black ribbon (about 18 inches long) on the door of the mailbox to look like a zebra tail. For fun make zebra hoof print tracks that lead from the street to the front door ... you can draw them with chalk or make them from black construction paper and tape then down to the driveway and walkways.
Party Foods
Oreo Cookies
Zebra Cakes
Brownies with Vanilla Ice Cream
Pink Lemonade (or a punch in your accent color)
Pink Smoothies with black and white chocolate sprinkles
Strawberries dipped in white chocolate and drizzled with dark chocolate stripes
Party Favor Ideas
Black, White and Pink nail polish
Hershey's striped chocolate kisses
Zebra picture frames
Zebra sunglasses
Black and white anything!
Goody Bags
White party bags with a black helium balloon tied to the top
Zebra Chinese take out containers ... make your own from white containers by adding black stripes
Wrap up favors in a zebra bandana

What are your favorite Zebra party ideas? Send them in and we will include them on the website!