Train Party Ideas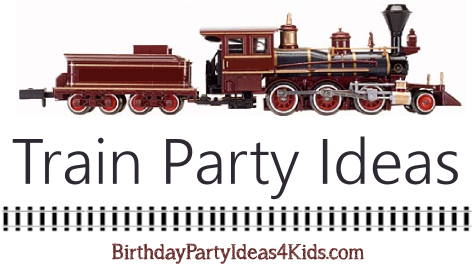 Train party ideas - party planning ideas especially made for a train themed birthday party. Fun themed ideas for invitations, decorations, games, party activities, favors, food & goody / loot bags.
Train party supplies from Amazon
Train Party Game Ideas
Train Circle Walk
This game is played like a cakewalk. Create a large circle on the floor with tape (train tracks) or using pieces of cardstock cut into circles. The circle should be as large as possible because the party guests will be walking around on it.
On each piece of paper (or in the middle of each train track) draw or attach a different number. On smaller pieces of paper write down the numbers and place them individually in a hat or train themed container. Children stand around the circle and while music plays they walk from one number to the next in order.
Stop the music and draw a number from the container. Whoever is standing on the number that is drawn wins a prize or a cupcake to take home. Keep playing until everyone has won a prize. rawn wins a prize or a cupcake to take home. Keep playing until everyone has won a prize.
Choo Choo Obstacle Course
Set up an obstacle course using hay bales, hula hoops, slides ... whatever you have that the guests can crawl under, climb over or go through. Divide into teams and let the children do the obstacle course by themselves or train style where they have to hold the hand of their team members.


Musical Choo Choo Chairs
Played like regular Musical chairs except the children choo choo around the chairs like trains while the music plays. We like to do reverse Musical Chairs and instead of taking out a party guest each time the music stops and they don't have a seat ... we take out a chair so the guests have to sit on top of each other and share. The last few rounds of this are really fun.


Follow the Engine
This is simple game, but a lot of fun for kids especially if a grown up is the leader. Ask them to follow the leader and do everything the leader does ... duck walk, skipping, hopping, summersaults, leaping ... anything goes!
Invitation Ideas
Train ticket invitation or boarding pass. The easiest way we have found to make these is to: 1) Print the party information on a large rectangular label and 2) create a ticket template that looks like this - )___( - (with the sides cut inward into half moons) from construction paper or heavy cardstock in blue or red.
Make them larger then the labels so when you stick the labels onto them the paper will show about 3/4" around the label.
Plain red or blue note cards can be decorated with a train track from construction paper or striping tape going from the top to the bottom of the front of the card.

Note cards printed with a Railroad Crossing sign or cut Railroad signs from scrapbook paper and paste onto front of the cards. Stickers can be used also.

Wrap your invitation up in a red or blue bandana and ask guests to wear it to the party.
Invitation Wording
All Aboard! For _______'s (child's name) birthday party!
Meet at the __________ (last name) Station
Track # _____________(address)
Departing ____________ (time of beginning of party)
Arrival Time __________ (time of end of party)
Please RSVP to the Station Master at ___________ (phone number) by _______ (date you need to have them respond) to reserve your seat.
Party Ideas
Set up a ticket booth near the front door (inside or out) to take the guests tickets as they arrive. You can also issue tickets to them if you plan on having different stations where they will get their ticket punched.
Make a ticket booth from an appliance box, card table or use a Little Tykes playhouse (just turn sideways so they can come up to the window).
Create stations or destinations for the children to rotate through. Have a train conductor (parent dressed up in a vest with a pocket watch) keep them on schedule by announcing each station.
To make it more fun after each station line them up one behind the other and pretend to be a train as you chug to the next location.
Call out arrival time and the name of the station before you get there. You can punch guests tickets as they exit the "train".
Create tracks around the house (and outside leading up to the front door!) using masking or electrical tape. Just lay down two parallel lines of tape going to the different stations you set up or going around your house about 1 foot apart. Then make the cross timbers by placing tape across the two lines you have created.
Decorations
Greet your guests with tracks. Use tape (electrical or masking) or sidewalk chalk to make train tracks from the sidewalk to the front door.
Hang a Railroad crossing or "To the Trains" sign on the mailbox or front door. Railroad crossing signs are easy to make out of poster board and black markers. Cut two long rectangles and glue or attach at the middle (see sign above). You can hang these or attach them to a pole or stick. Attach two red balloons below the railroad crossing sign for the signal lights.
Make a sign with your last name that says __________'s Depot or ___________ Station.
Old timey hard case luggage can be a great decoration around the party area, use them as a base to hold the presents or even hold items for the party such as napkins and plates. Open smaller suitcases can hold bowls or tubs of snacks and drinks.

Make "Tracks out of Service" signs and place them on doors or areas you don't want party guests to travel to.
Decorate the party table with a white table cloth, blue plates, red cups (signal lights) and yellow flatware and napkins. Yellow, red or blue bowls can hold snacks. Bunches of red and blue helium balloons look great on the party table tied to a large train or train related item (signal lights, suitcase, train car). Or tie a single helium balloon to each chair at the table alternating in the colors of blue, red and yellow - then each child can take their balloon home after the party. A fun ideas is to place
Caboose Tag
The object of this game is for the "engine" or first person to tag the "caboose" or last person in a group. Divide children into groups of 3 or 4. Line them up one behind the other and have them place their hands on the shoulders of the person in front of them on their team. The "engine" will then try and tag the other teams "caboose's". This is a crazy fun game that gets kids moving. When someone has been tagged they then move up to be their teams "engine". Keep playing until everyone has had a chance to be both the engine and the caboose.
Party Food
Wheel pasta (train wheels) served with alfredo sauce
Bread sticks (whistles)
Hot dogs and buns (train whistles)
Chew Chew popcorn balls
Cotton candy (smoke)
Oreos (train wheels)
Mini doughnuts (train wheels)
Graham crackers (train cars)
Pineapple rings, orange circle slices, kiwi slices
Cut sandwiches, rice krispie treats, fruit and/or cheese into train shapes with a cookie cutter
Twizlers (train tracks)
Pretzels (train tracks)
Party Favors
Train whistles
Regular whistles
Conductor hats ( painters hats can be substituted - find them cheap at a paint store. Draw on lines with a permanent black or blue marker or let the children decorate them for a craft. )
Bubbles (train smoke)
Any Thomas the Train item (pencils, stickers, candy)
Good / Loot Bags
Wrap up party favors in blue or red bandana's
Solid color blue and red bags - tie with opposite color curling ribbon
Train printed cup or box