Stranger Things Birthday Party Ideas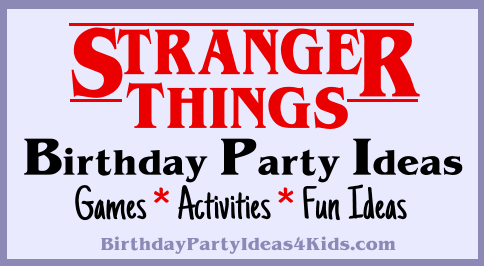 The Stranger Things Series is a lot of fun to watch and also makes a great birthday party theme for kids, tweens and teen parties.


Stranger Things Party Activities
Glow in the Dark Slime
Let the party guests make their own glow in the dark slime as a fun party activity. Provide airtight containers and the guests can take their slime home as a party favor after the birthday is over.
Recipe for Glow in the Dark Slime
Recommended for kids over the age of 3
Each recipe will make enough slime for 2 party guests

5 oz Elmer's Glow in the Dark Glue
½ tablespoon Baking Soda
1 tablespoon contact lens solution
Instructions:
Pour the glue into a large bowl
Stir in 1/2 Tablespoon of Baking Soda and mix together
Stir in 1 Tablespoon of Contact solution
Keep mixing until the ingredients start to form slime
Take the slime out of the bowl and knead with your hands

Pour out entire contents of the 5 fl oz Elmer's Glow in the Dark Glue into a bowl.

Add ½ tbsp of baking soda and mix thoroughly.

Add 1 tbsp of contact lens solution. Mix until mixture gets harder to mix and slime begins to form.

Take the slime out and begin kneading with both of your hands until it is not sticky anymore.
If it continues to be sticky add a small amount of contact solution and keep kneading.
Store in an airtight container.


Stranger Things Party Food Ideas

Eggo Waffles
Lay out Eggo waffles along with fun toppings such as syrup, whip cream, sprinkles, cut up fruit

Coke cans

Chocolate pudding cups (Hawkins Middle School)

Ice cream sundae bar with fun toppings

Hamburgers and French Fries (Benny's Burgers and Fries)

80's candy - bubble tape, razzles, smarties etc.
3 Musketeers Bars
Pringles
Nilla Wafers
Stranger Things Party Favor Ideas
Flashlights
Slime
Trucker Hat
Christmas lights necklace
Rubiks cubes
3 Musketeers Bars
Small bags of Nilla Wafers
80's Candies such as bubble tape, razzles, smarties, pop rocks
Stranger Things Party Decorations
Caution Tape

Welcome to Hawkins sign in front yard

Christmas lights

Black out walls with black trashbags taped to the walls with black crepe paper streamers

White helium balloons with the Stanger Things wall letters written in black
Cassette Tapes, Old Style phones

Walkie Talkies

"Castle Byers" sign
Welcome to the Upside Down Sign
Stranger Things Quotes and Sayings
"It's like when you have a dream and you can't remember it unless you think really hard." - Will Byers

"Rule number one: always keep the curtains drawn."
"Rule number two: only open the door, if you hear my secret knock."
"Rule number three: Don't ever go out alone… especially not in the daylight." – Chief Hopper

"Mornings are for coffee and contemplation." – Chief Hopper

"Sometimes your total obliviousness just blows my mind." – Dustin

"We never would have upset you if we knew you had superpowers." – Dustin

"She's our friend and she's crazy." – Dustin

"You shouldn't like things because people tell you you're supposed to." – Jonathan Byers

"Friends don't lie." – Eleven

"Mouth-breather." – Eleven

"What is friend?" – Eleven

"If anyone asks where I am, I've left the country." – Mike

"I'm stealthy, like a ninja." – Steve Harrington

"Why are you keeping this curiosity door locked?" – Dustin

"This is not yours to fix alone. You act like you're all alone out there in the world, but you're not. You're not alone." – Joyce

"I am on a curiosity voyage, and I need my paddles to travel. These books…these books are my paddles." – Dustin

"Bitchin'." – Eleven

"Do you wanna be normal? Do you wanna be just like everyone else? Being a freak is the best. I'm a freak!" – Jonathan Byers

"You know, you're really no help at all, you know that?" – Dustin

"You're gonna slay 'em dead." – Steve

"I asked if you wanted to be my friend. And you said yes. You said yes. It was the best thing I've ever done." – Mike

"If we're both going crazy, then we'll go crazy together, right?" – Mike

"It's called code shut-your-mouth." – Erica Sinclair

"Nobody normal ever accomplished anything meaningful in this world." – Jonathan Byers

"You can't spell America without Erica." – Erica Sinclair

"There's more to life than stupid boys, you know." – Max Mayfield

"A safe place to what? Be creepy?" – Max Mayfield

"Hey guys, why are you headed towards the sound?" – Max Mayfield

"I didn't realize it was such an honor to go trick-or-treating with you." – Max Mayfield

"People don't spend their lives trying to look at what's behind the curtain. They like the curtain. It provides them stability, comfort, and definition." – Murray Bauman

"I'm chill." – Barbara Holland

"Science is neat, but I'm afraid it's not very forgiving." – Mr. Clarke

"I always thought stuff like this happened in movies and comic books." – Bob Newby