Frozen Birthday Party Ideas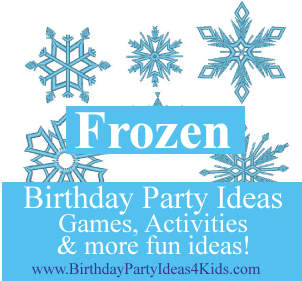 Our favorite ideas for a Frozen birthday party theme for kids ... all wrapped up on one page!
Fun unique party games, activities, ice breaker games, party favor ideas, goody bag and decoration ideas! All of our ideas are budget friendly ... just mix and match the ideas that work the best for your party and kids.

Frozen party supplies from Amazon


Frozen Birthday Party Games
These Frozen themed party games are fun for kids of all ages!
Do You Want To Build a Snowman?
This is a fun and easy party game and kids love playing it. You will need several rolls of toilet paper (snow)- all the same brand and # of sheets. The object of of the game is to see which team of kids can make one of their team members into a snowman first by wrapping them in the "snow" (toilet paper) .
To set up divide party guests into groups of 2 or 3 and give each team a roll of toilet paper. If the teams have 3 people each then one of the team members will be wrapped by the other 2 members of their team. Each team group gets a roll of toilet paper for each person who will be wrapping.
Let the teams choose who will be wrapped first. On "go" the kids who are wrapping will give the end of the toilet paper to the person being wrapped and they will hold the ends in their hands. They then wrap their toilet paper around and around until they are out of paper and the person being wrapped is covered from head to toe. 1st group to empty their rolls of toilet paper yells "Snowman" and wins!
Snowball Treasure Hunt
Before the party hide lots of cotton balls around the party area. When it's time for the game gather the guests and tell them that there has been snow hidden around the party. Then let the party guests search for the cotton balls. For fun you can have special cotton balls that are colored blue and the guests that find them are rewarded a bigger prize. After all the snowballs have been collected let the partygoers turn them in for small prizes or candy.
Blizzard Scavenger Hunt
Kids love scavenger hunts ... and especially one with a Frozen theme! Make lists of blue and white items along with some Frozen theme items. Our Scavenger Hunt page has free sample lists to get you started. Some fun Frozen themed items you can add are:
cotton balls, ice cube, ice tray, carrot (Olaf's nose), mitten, scarf, paper snowflake, blue candy, marshmallow, blue crayon, white marker, white paper clip, Frozen character items
Blizzard Game
Teams race to move their "snow" from one side of the room and back. For each team you will need cotton balls, ping pong balls or large foam peanuts and a broom. (Ping pong balls are the most fun! Make sure each player has to move at least 3 at a time ... the more you add the crazier it gets! ) Give each team the same number of items of "snow" and a broom and have them one at a time race to the other side of the room and back while herding their "snow" with the broom. This game works best on a floor with a hard surface such as wood or tile. If the kids are older set up a fan at the opposite end of the playing field to make it more challenging. The first team with all members completing the task wins.
Snowball Stomp
Blow up white balloons half way and tie a string, about 18" long, on each balloon. then tie the other end of the string to the ankle of a party guest. When everyone at the birthday party has their "snowball" attached to their ankle an adult yells "Snowball Stomp!" and the kids will try and stomp and break the other children's balloons while trying to protect their own. Give winners and participants small prizes or candy.
Frozen Party Icebreakers
Snow Share
You'll need a new roll of toilet paper (snow) for this icebreaker.
Have the party guests sit in a circle and tell them you are going to pass around some snowflake sheets.
Without telling them why ask them to take as many snowflake sheets as they think they will need for the game. Pass the paper around without any further instructions and have the guests take sheets of paper off the roll.
After everyone has taken sheets tell them that for each sheet they have they have to share one thing about themselves.
How Many Snowballs
While guests are arriving at the party have them guess how many snowballs are in a large jar. Write down their guess and their name on cards. The party guest who's guess is closest to the number in the jar wins the whole jar and it's contents!
Fill the jar with your choice of snowball items such as white cheddar cheese balls, blue gum balls, snowcap chocolate candies, white marbles or cotton balls. Be sure to count the items as you are filling the jar before the guests arrive and write down the number.
Frozen Party Activities
Buy white, blue and purple sidewalk chalk and show the kids how to make a snowflake with the chalk. Then let them draw a blizzard of snow on the driveway or back porch ... or up and down the sidewalks!
Make a bubble station and fill a gallon container with a spout with bubble solution. Give guests bubble containers and wands and let them make a blizzard of bubbles! Our bubble page has homemade recipes for bubbles and some other fun ideas you can incorporate into a Frozen party. Bubble recipe and ideas
Make snowflakes from different colored blue, purple and white paper. Experiment with different weights and types of paper such as tissue paper, crepe paper, scrapbook paper and copy paper. Glue to a piece of black or dark blue poster board and let the kids take home their creations.
Decoration Ideas for a Frozen Party
Here are a few fun decorating ideas for a Frozen party ... mix and match the ideas that suit your party and budget.
Decorate with strings of white Christmas lights ... over the entrance to the party, staircases, mantles and on the party table.

Use blue and white sidewalk chalk and draw a blizzard of snowflakes on the sidewalk and walkway to the party.
Cut snowflakes out of paper and hang them up on the ceiling with fishing line.

New bags of pillow stuffing will look like snow when stretched out over tables and in the corners of pictures where snow would collect if it were outside.

To make icicles cut up strips of crepe paper and tape one side to the tops of doorways and mantels and let the other end hang down like an icicle does.
Decorate the party table with a white over blue polka dot tablecloth, white plates, napkins and cups and then add a little sparkle with silver confetti or silver snowflake ornaments in a bowl.

Fill silver metal containers or pretty glass containers with blue and white snacks and candies.
Frozen Party Food Ideas

White cheddar cheese balls
Little Debbie Snowballs
Snow Cones with blue flavorings
Blue Popsicles
Frozen smoothies
Ice cream sundae bar with lots of different toppings
Marshmallows cut into star shapes and served in hot chocolate
Snowflake shaped sugar cookies iced with white icing and blue sprinkles
Blue Kool Aid
Blue Jell-o with whipped topping and blue sprinkles
Snow Cap chocolate candies
Blue and white rock crystal candies (look like ice!)
White chocolate covered pretzels
Frozen Party Favor Ideas
Blue or white bottles of bubbles - take off the labels and replace with a label that says "Thank you for coming to _______'s party!"
Packets of blue and white sidewalk chalk (for making snowflakes at home!)
Mittens or Gloves in blue or white
Do you want to build a snowman party favor packs - in a ziploc bag place large marshmallows, pretzel sticks and m&m's - seal and give out as party favors. (Also fun to do as a party activity and then let the kids take home their creations.
Snowflake necklaces
Snowflake bracelets or earrings
Small Olaf snowmen
Small snow globes
Hot chocolate packets in a snowflake mug
Little Debbie Snowballs
Frozen Goody / Loot Bag Ideas
White bags or small boxes with Frozen character or snowflake stickers
Stick white circle stickers on blue paper bags
Wrap up the party favors in white and blue polka dot material and tie with a white string
We have birthday party themes and ideas for kids of all ages! 1, 2 and 3 year olds, 4, 5 and 6 years old, 7, 8, 9, 10, 11, 12 and also tween and teen party ideas!