Christmas Pictionary Game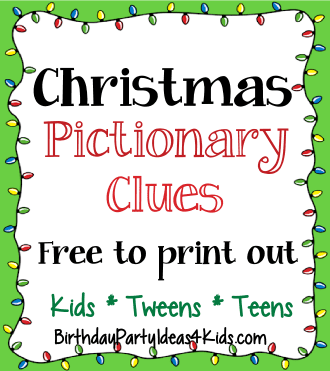 Christmas Pictionary is an awesome family / party game for kids, tweens, teenagers and adults! Great for large and small groups, classroom parties, family gatherings and birthday parties!
Christmas party supplies and favors from Amazon


The game is easy to play and cheap too! All that is needed to play is players, paper (or a large pad and easel) and markers.
The unique Christmas themed clues below are free to print out for the game.
How to Play Christmas Pictionary
One player draws a picture of a clue for their team members to guess the answer.
Christmas Pictionary Set Up
Print out the list of Christmas Pictionary clues (below) and cut into individual clues. Fold the clues so they can not be seen. Place in a container.

Divide players into 2 teams. Choose which team goes first. Give each team paper and markers or set up one easel with a large pad of paper at the front of the room.
The first team selects 1 player to draw for them. The other team members will try to guess the clue.
The player drawing for their team will choose a clue from the clue container without looking at it. They will have 5 seconds to look at the clue before they start drawing.
Set a timer for one minute. The player drawing will have 1 minute to draw the clue while their team members try to guess what they are drawing by shouting out their answers. The player drawing can not use any words or motions.
If the team guesses the clue in the one minute time limit the team gets 1 point.
If they do not guess the clue then the opposing team has 1 chance to steal.

The opposing team has 10 seconds to discuss among their team the best answer for the clue. Then they have 1 chance to get it right. If they guess the clue then they get 1 point.
Play to 20 or 25 points - or longer if time allows. Decide what the winning score will be before the game begins
For smaller groups:
Instead of two teams Christmas Pictionary can be played as a group with one person drawing until one player in the group guesses the clue. Then the player that guesses the clue will be the next drawer.
Christmas Pictionary Clues
Elf on a Shelf
Holly Jolly Christmas
Santa Baby
Reindeer Games
Scrooge
North Pole
Naughty or Nice
Melting Snowman
Jingle Bell Rock
Jack Frost
Ice Ice Baby
Blue Christmas
Baby It's Cold Outside
On Thin Ice
Stringing Popcorn
White Christmas
Mrs. Claus
Wreath
Sugar Plum Fairy
4 Calling Birds
Cindy Loo Who
Charlie Brown
Christmas Tree
Mittens
Cinnamon
Ho! Ho! Ho!
Abdominal Snowman
Deck the Halls
Paper Snowflake
Misletoe
Candy Cane Forest
Caroling
Elves
Santa is Coming to Town
Dasher
Marshmallow
Snow Angel
Feeding Reindeer
Ski Lift
Hanging Stockings
Sea of Swirly Twirly Gum Drops
Letter to Santa
Eggnog
Wrapping Paper
Grinch
Gingerbread House
Gumdrops
Chimney
Drummer Boy
Rudolf
Buddy the Elf
Santa's Sleigh
3 Wise Men
Moose
Hot Chocolate
Joy to the World
Cutting down a
Christmas Tree

Winter Charades Game
Fun winter themed charades with over 50 free clues!
Christmas party supplies and decorations from Amazon