Chocolate Spa Birthday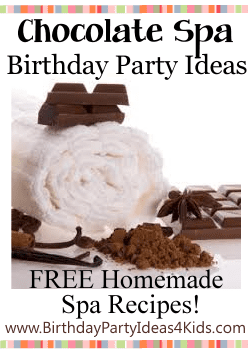 Fun and fresh ideas for a Chocolate Spa theme birthday party for kids. Chocolate spa themed games, activities, party food, invitation and decoration ideas and more! A sweet birthday party theme for kids, preteens and teenagers!
See our
Sleepover / Slumber Party Guide
for more fun ideas!
Chocolate Spa Party Games
Candy Bar Wrapper Game
Hand out a few mini chocolate bars to each guest. In the center of the work area have scissors, glue sticks, ribbon, buttons, etc. and a paper doll. Let each guest make a dress for the paper doll using only the chocolate bar wrappers and the extras. This would be a fun game or activity to have in the "waiting room" between spa treatments. At the end of the party have a fashion show.
Candy Bar Unwrapper
This game is played like hot potato - have guests sit in a circle and then put on some music. Pass around small bars of chocolate and when the music stops tell the person they can eat the chocolate …. If they can unwrap the bar while wearing gloves. Hand them a pair of large work gloves and see if they can unwrap the chocolate in 30 seconds. Start the music and keep going around the circle for everyone to have a turn.
Chocolate Spa Party Activities
Make homemade spa treatments
either with the girls help or before the party and then use them at different stations.

Paint toes and fingernails pink with brown dots or stripes.
Decorate flip flops with jewels or make funky flip-flops. See our flip flop craft page for complete instructions and directions on how to make this easy party craft with just material scraps or ribbon.
Party Food Ideas
Chocolate fountain - set out plates of fruit, marshmallows, pretzel sticks, etc. that the guests can dip into the chocolate fountain. Smores, brownies, M&M's, chocolate cookies, Oreos ….
Hot chocolate

Serve sparkling cider in champagne glasses
Strawberry smoothies with drizzles of chocolate syrup
Set up a chocolate candy buffet with containers filled with chocolates, malted milk balls, M&M's, etc. Let guests eat from the buffet throughout the party or have them fill up a small sack or container to take home as a party favor.
Spa Party Favors
Chocolate flavored or scented lip balm, lotions, or candles.
Nail Polish
Flip flops
Nail files
Toe separators
Fun brown or pink eye masks
Hot cocoa mix in baggies with mini marshmallows and/or candy canes - tie with a pretty ribbon.
Recipes of all the spa treatments you used at the party.
Hershey's chocolate kisses or chocolate bars.
Spa Goody Bags

Mug filled with hot cocoa mix
Wrap the party favors in pink tulle and tie with a pretty brown or pink ribbon
A small plastic tote with several compartments would be great to hold the party favors
Chocolate Spa Invitation Ideas
Write out the party information onto pink and brown flip-flops and ask that they wear them during the party.
Buy large candy bars and replace the labels with those you make yourself on the computer or simply print party info on large labels and stick to the chocolate bars.
Send bunches of chocolate kisses wrapped in pink tulle with the Chocolate Spa invitation attached by pink and white curling ribbon.
Complete with home made
spa recipes - free chocolate spa homemade recipes
Includes chocolate face mask and other facials, lip balm, scrubs, masks and bath salts.
Decorations for a Chocolate Spa Party
Pink and Brown are great colors for a chocolate spa party.
Buy plates, cups tablecloths and balloons in these colors - combinations of stripes and polka dots are fun too!
Candles or white Christmas lights.
Make large Hershey kisses from aluminum foil - or make cut-outs of Hershey kisses with poster board and glue on foil to stick to the wall. Make large circles and decorate like M&M's.
See our
Spa Party Theme
for more ideas