American Idol Party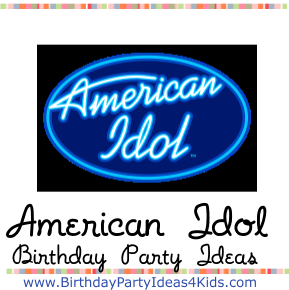 American Idol birthday party ideas for kids, tweens and teens.

Create your own special party with these great ideas for invitations, decorations, food, games, activities and more.
Invitation Ideas

Find dark blue invitations with silver stars ... or make them yourself by sticking silver stars onto the front of blank invitations.
Cards with musical notes, a sign of Hollywood or a microphone would be great invitations choices.

On the outside of the cards write the phrase "You're going to Hollywood!"

Print out information onto CD labels, attach to blank cd's and send to guests.

Inside the invitation include an audition number printed on white paper that they can bring to the party and wear during their performances. Include a list of the music selections you will have available for the kids to sing with so they can practice before the party.
American Idol Activities
Karaoke Competition
Have guests select a song and then get on stage to perform it in front of the "judges". Songs can be recorded and then placed on a cd to hand out as a favor after the party.
Glam it out
Let the kids have one round of karaoke ... and then bring out the glamour stations to get them fixed up for the next round. Set up stations with hair and face glitter, wigs, hats, props, boas, jewelry, temporary tattoos, etc. and let everyone have a glam makeover.
American Idol Party Games
Check out these Sleepover and Slumber Party Games - fun ideas if your American Idol party will be a sleepover!
Name that Tune
Before the party pick several songs that have unique music. Have party guests see who can guess the name of a song by just playing a few notes of the beginning. Make it a competition by dividing into teams and taking bets on who can name that tune in the fewest amount of notes. Or roll a dice and what ever number comes up is how many seconds (or notes) the team has to answer.
Name that Song
Before the party print out a few lines from 15 different songs. Pass them out to guests and see if they can answer who the artist or band is that sing the songs.
American Idol Trivia

Do research and find out facts from all the previous seasons of American Idol. Make up a quiz for the kids to try and answer. Give prizes for the winners.
American Idol Party Food Ideas

Ice Cream microphones - Chocolate covered ice cream scoops in sugar cones

Use different sizes of star shaped cookie cutters and cut out star shapes in food. Some good choices are cheese, slices of fruit, brownies and cookies, hamburger patties, sandwiches and bread.
Chocolate fountain - dip marshmallow, strawberries or cookies into the chocolate fountain
Serve sparkling cider or ginger ale (or other soft drinks) in plastic champagne glasses.
Set up a candy buffet and let everyone choose their own candies to put in a blue and silver bag or small box.
American Idol Party Favor Ideas

Microphones
CD's
Sunglasses
Boas
Glow in the dark stars
neon glow bracelets and necklaces
Candy buffet candies
Star shaped cookies
American Idol party supplies from Amazon
American Idol Goody Bags
Blue paper sacks with silver star stickers on the front and back
Paper sacks with the American Idol logo glued on the front
Star shaped boxes
Party games just for girls - Girls party games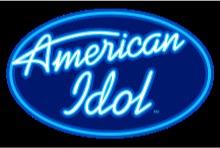 American Idol Party Decorations
Decorate the American Idol party in Blue and Silver.
Make a Hollywood sign for the inside party table and/or for outside along the walkway to the party.
Print out large letters (one per piece of paper) that spell out Hollywood and glue them onto stakes. Place at the entrance of the party. You can also make a large Hollywood sign and have the kids stand in front of it for a great photo opportunity.
Place silver stars in the trees outside and on the walkway to the party.
Hang stars from the ceiling of the party venue with curling ribbon.
Hang strings of white or blue lights on the ceiling or around the party decorations.
Clear one side of the venue or party room to make space for a stage. Hang a white, blue or silver sheet or curtain behind the stage.
Add a disco light, spotlights and/or a microphone stand for the stage.
Set up a table near the stage with 3 chairs for the judges.
A fun idea is to have 3 adults dress up like the judges on American Idol. Or you can get life size cardboard cutouts (check Ebay) of the judges and have them sitting behind the table against a wall.
Cut out large musical notes from black poster board and hand around the party area.