Teen Party Games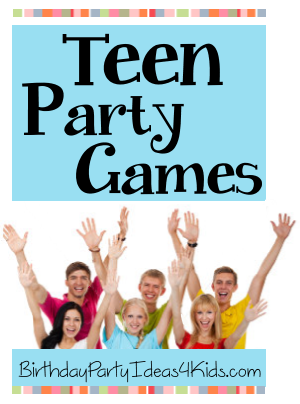 Teen party games for teenage girls and boys 13, 14, 15, 16, 17 and 18 years old.

Fun interactive teenage games and group games for teenagers that are unique, easy and budget friendly!
Teen party supplies from Amazon

Most of the Teen games don't need a lot of set up or supplies to play ... just a group of teenagers that want to have fun!
Teenage Party Games
Ball of Fun
Fast paced game that teenagers love! You will need candy, small prizes, plastic wrap and dice.
Before the party make a large ball filled with layers of prizes and candy by wrapping plastic wrap around a small ball. In each layer of plastic wrap place a wrapped candy or small prize. Continue wrapping and adding prizes until you have a large ball about 1 foot in diameter.
To play: Players sit in a circle and the first player tries to unwrap the ball to collect a prize. While the first player is unwrapping the ball the player to his left is rolling 2 dice trying to roll doubles. When the 2nd player rolls doubles the ball is passed to them and the person on the 2nd players left starts to roll for doubles. Continue until all the prizes and candy have been found.
Frozen to a T
You will need a x-large t-shirt for each guest, gallon size Ziploc bags and water. Before the party wet the t-shirts, then fold and place them in the Ziploc bags. Fill the Ziploc bag with water and seal. Freeze the shirts in the bags at least over night until they are all frozen solid. During the game give each guest a frozen shirt. The guests have to unfreeze the shirt anyway they can and be the first one to put the shirt on and wear it. It is harder then it appears and lots of fun to watch! Fun teenage game for ages 13, 14, 15, 16, 17 and 18 years old!
Teen Minute to Win It Games
35 of the most fun and challenging Minute to Win It style party games for Teenagers. Set up stations and pick which games are the best for your party!
Minute to Win It Games for Teenagers


Teenager Would You Rather Game
Teens have to decide between two answers which of the answers they would rather do. Crazy, fun and thought provoking! Free printable sheet of over 200 Would You Rather questions.
Mall Scavenger Hunts
Mall Scavenger Hunts are fun games for teenagers. Teens and the Mall, what better combination? There are 8 different and unique Mall Scavenger Hunts and each has a free item list (if needed).

Teenagers break into teams and hunt for items on their list during a given time limit (1 hour or so) and then meet up at the food court or Mall restaurant to determine the winning team.
Mall Scavenger Hunts

Mall Scavenger Hunts include:

A 2 Z
- find items beginning with each letter of the alphabet

Freebie Shopping Spree
- a free list of over 40 free items to find in the mall

Informational
- Teams try to find answers about the mall

One Color
- free list of items to find in one color

Super Shopper
- Teams are given money ($20.00) and have to buy the most items using only that amount.

Salesperson Scramble
- Teams search for salespeople who match items on their list

Ultimate Mall Hunt
- the bigger the better!

Rainbow Scavenger Hunt
- Free item list
Teenage Truth or Dare Game
Are you willing to tell the truth to a question or would you rather not answer and take the dare? Over 50 fun truth questions and 50 dares. Free printable sheet - print them out, cut apart and place in a jar or container for the party.
Truth or Dare Game



Truth or Dare Poppers
Truth or Dare questions, dice, balloons
Played just like the original Truth or Dare game, but with a popping twist! After the Truth or Dare questions are printed out ( get the FREE printable dare list and printable truth questions here) cut them into separate pieces, fold and place inside balloons. Place dares in one color of balloon and truth questions in a different color or write a large T for truth questions and D for dare ideas on the outside of the balloons to keep track of what's inside.

Then blow up the balloons and tie. Before the game have players pick a number between 2 and 12. One at a time players roll 2 dice and the number that comes up on the dice is the number of the player that has to pop a balloon. They choose a truth balloon and if they don't want to tell the truth then they must pop a dare balloon and do the dare that is inside.

Then they roll the dice to determine who is next.

Variation: Instead of labeling the balloons Truths and Dares, use a mix of balloons so that players don't know if it's a truth or a dare they have to do.
Twisted Twister
Twister game mats are a little too small for teenagers so make your own Twister board any size and spacing that will accommodate the party guests. Make a large outdoor Twister board by spray painting circles (create a cardboard box template by cutting a circle in the bottom of a box and placing it on the area to be painted) on grassy areas. For an added twist place washable paint or colored foam on the circles.

Or for a large group tape 4 twister mats together!

Teenage Pool Party Games
Fun swimming pool party games for teenagers. Cool off with these fun pool party games.
Teen Pool Party Games


Teen Video Scavenger Hunt
A teenage twist to the traditional Scavenger Hunt
Players break into teams and have to video themselves performing crazy tasks.
Walking a strangers dog
Pumping a strangers gas
Human pyramid in front of their school
Singing a song with a stranger
Hanging upside down on monkey bars
are a few fun ideas ... make a list of about 20 ideas. Then meet up afterwards so everyone can view all the teams videos.


The Bigger the Better Teen Scavenger Hunt
This Scavenger Hunt doesn't require a list because players don't search for items, they are searching for items they can trade up to get the best or biggest item at the end of the game.

Each team starts with a small item like a penny or quarter. The teams have to trade their item for something bigger or better. Then they take the item they traded for and trade it for something better. As an example at the first house Team 1 trades their quarter for a pencil, then at the next house they trade the pencil for a basket, then they trade the basket for a picture ... and so on. Only one trade per house. Set a time limit and have everyone meet back at the party house to see which team has the bigger or better item.
Mystery Dinner Game
The Mystery Dinner Game is played during a meal. Menus are made for each guest and they must choose 3 items from the menu. The twist is that the menu only describes the food they are ordering. To complicate things utensils, plates and napkins are also listed in with the food items and they all have crazy names too. For example a party guest chooses 3 items from this menu -

round moo
dotted round moo
bubble brownie
light sparkle
flat crunchy
swimmers
golden fear
ropes
swords
Shredded and tossed
Little blocks
Pants and Shirts
Spear
Dipper
Tree square

The guest doesn't know what will arrive until the 1st course. Play 3 rounds, giving the same menu to each player during each round. By the third time most players have figured out exactly what to order to get what they want. Can be played with any menu or food items you are serving for the party.

Here is what the guests get after they order from the above menu:
Cheese pizza = round moo
Pepperoni pizza = dotted round moo
Coke = bubble brownie
Sprite = light sparkle
Chips = flat crunchy
Goldfish crackers = swimmers
Chicken Nuggets = golden fear
Spaghetti = ropes
Breadsticks = swords
Salad = Shredded and tossed
Croutons = Little blocks
Dressing = Pants and Shirts
Fork = Spear
Spoon = Dipper
Napkin = Tree square
Skittle Challenge
Play this game with skittles candy or any colorful candy.
Place the candy into a container with a pour spout. Players sit in a circle and without looking pour 2 skittles into their hand. If the two candies are the same color then the player chews them. If they are different the two candies inside your mouth. If the candies are the same colors then chew them. But if they are different you keep them inside your mouth until another turn. Then you choose two more to see if you can get a pair.
More Teen party ideas!
Send in your favorite games for teenagers!
Birthday Party Ideas for: