Party Craft Recipes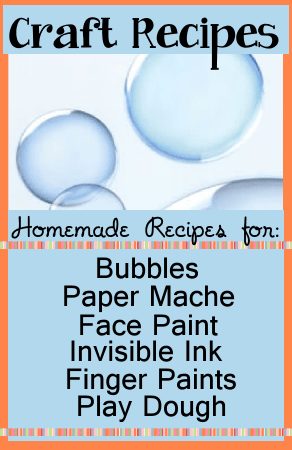 Fun and easy homemade craft recipes for do it yourself birthday parties. Use these recipes to make fun party activities, games and cheap party favors for boys and girls, kids of all ages! These inexpensive ideas are perfect for creating a lot of fun on a small budget.

Bath Salts
Make bath salts for your next spa birthday party theme. Or just make some for fun! Easy to make and can be used as a craft, birthday activity and party favor after the party ends. Also great activity for sleepovers and slumber parties!
Bubbles
Bubbles are always a big hit at birthday parties. We've listed our favorite homemade craft bubble recipes for you to choose from. Make these bubble recipes from items you have around the house. Set up a Bubble Station using a large drink container with a spout on the end where guests can fill up their bubble cups when they are running low. Great when you need a lot of bubbles at a low price! See our Bubbles birthday party theme ideas for more fun ideas and how to set up a whole birthday party around bubbles!


Face Paint
Great face paint recipes for drawing small or large items of party guests faces. Many different recipes to choose from to make the perfect face paint for your party! There is also a recipe for a clown all-over face paint. Fun idea for Circus parties or Fall festivals!
Finger Paints
Easy recipes for finger paints. Many different recipes to choose from so you can find the perfect consistency for the age of the party guests. Supply large sheets of paper and aprons (or large old shirts) for guests to wear and let them have fun finger painting! Great fun at any birthday party! Hang the finger paintings up to dry and let the guests take them home after the party is over. This party craft recipe is always a big hit with guests!


Invisible Ink
Use these do it yourself home recipes to make invisible ink for treasure maps, invitations and much more. Perfect addition to the Spy birthday party theme! Many different ways to make invisible ink!
Paper Mache
Our favorite tried and true recipes for Paper Mache. Great for making piñatas! Fun and easy way to make a pinata for a child's birthday party. There are several different recipes to choose from depending on what you have around the house. Each recipe is easy and very cheap / inexpensive to make! See our pinata party page for more help and suggestions when having a pinata at a birthday party.


Play Dough
Several easy recipes for homemade Play Dough. Make a little or a lot. Great birthday party activity for kids that is easy to make and also cheap! Make the play dough colors match the birthday party theme. Then place into cute small containers for them to take home after the party as a party favor.
Fun homemade craft recipes and easy craft ideas for kids, boys and girls ages 3, 4, 5, 6, 7, 8, 9, 10, 11, 12, 13 years old to play as a game or party activity.