The Best Homemade Playdough Recipes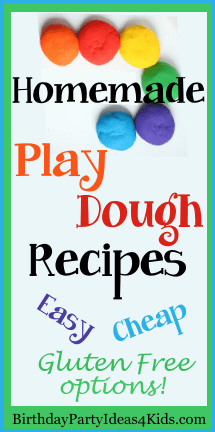 Fun and easy to make at home recipes for the best homemade playdough that use common pantry items to make!

Recipes for:

Gluten Free
No Cook
Kool Aid
Cornstarch
Flour
With and without cream of tartar
With and without salt
Without oil
Most of the recipes can be made without cooking / without heat.

Great for birthday parties, play dates or any time kids, preschoolers and toddlers want to create!

Experiment with different color combinations or make the colors that match your party theme and send home with guests as a party favor.

Includes 2 Gluten Free playdough options.
Find fun Play Doh creation sets on Amazon
Tips for making homemade playdough
1. Coloring - After making the dough separate into equal portions and place in quart ziplock bag. Add food coloring to the bag and close. Knead the color through the dough (kids love helping with this step!). No mess and it won't stain your hands.
2. How long can homemade playdough be stored?
This homemade playdough recipe can be stored in airtight containers or ziplock baggies for about 3 months.
3. For playdough with a twist add 1/3 of a cup of glitter to the playdough mixture before or after adding the food coloring.
Homemade Play Dough Recipes
The Very Best Play Dough Recipe
2 Cups Flour
3/4 Cup Salt
4 tsp Cream of Tartar
2 Cups Water (lukewarm water is the key!)
Food Coloring
2 to 3 Tbl of Cooking Oil (coconut or vegetable )
Food coloring in several colors
1 Gallon size zip lock bag or wax paper
Quart size zip lock baggies
Quick to make and super cheap at $1.00 per batch! This soft playdough is great with cookie cutters and super soft for molding. Store it for up to 3 months and it remains soft.
How to Make Playdough
In a large saucepan mix flour, cream of tartar and salt together until blended.

Stir the oil and water to the flour mixture.

Cook the play dough mixture over low to medium heat until it is the consistency of mashed potatoes. You will need to stay with the saucepan and stir the ingredients constantly.
When the mixture easily forms into a ball remove the pan from the heat. Put the play dough mixture inside the 1 gallon zip lock baggie and let cool for a few minutes. Seal the baggie and knead the dough until it is smooth. If you are only making one color of play dough then add the coloring to the baggie bag and knead until the color is uniform.
You can also place the dough onto wax paper and knead with your hands if you do not have a gallon baggie.
To color the playdough:

Separate the dough into as many colors as you want. Form a ball with the dough and place each ball into a quart size zip lock baggie.
Add food coloring to the baggie, close, and then knead the food coloring into the dough. 4 - 6 drops of food coloring should be enough for bright colors.
This is a great place to get older kids involved in the making process! Kids love to mix the colors inside the baggies and bonus - no mess!
Kool Aid Play Dough Recipe

1 Cup Flour
1/2 Cup Salt
1 Cups Boiling Water
1Tbls. Cooking Oil
2 tsp. Cream of Tartar
1 Packet of unsweetened Kool-Aid

Mix flour, salt and Kool-Aid together in a bowl. Add oil to boiling water and then pour into a bowl.

Mix with a large spoon until the dough is cool enough to kneed with your hands. Continue to knead until the color is blended all the way through.

This is one of the easiest and best homemade playdough recipes!
Cornstarch Play Dough (Gluten Free)

1 Cup Cornstarch
2 Cups Baking Soda
1 1/4 Cup Cold Water
Food Coloring

Mix food coloring and water together.
In a saucepan mix all ingredients over medium heat for about 4 minutes until mixture thickens - the consistency of mashed potatoes.
Remove from heat and put into a large bowl. When cooled knead the mixture until smooth.
This homemade playdough recipe is made without cream of tartar and without flour or salt.
Potatoes and Cornstarch
Gluten Free Play Dough Recipe
No cook
2 cups instant mashed potato flakes
1 cup cornstarch
½ cup sea salt (fine)
1 cup hot water
¼ cup white vinegar
2½ TBLS oil
gel or liquid food coloring
This is a great homemade playdough recipe that is easily made without cooking. Mix together the potato flakes, cornstarch and salt in a large bowl. Add to the mixture the hot water, oil and vinegar.
Mix ingredients well. Once the playdough is sticky and clumps together add the food coloring. Separate small balls of dough into separate containers. One container for each color dough you are making. Keep adding color until it is the desired shade.
The playdough can be stored for 2 - 3 weeks sealed plastic bag or container with a tight lid. You can also store in the refrigerator.
If you have a favorite / best homemade playdough recipe send it to us so we can share it on the website!
Party games for ages 7, 8 and 9


Party Games for 5 and 6 year olds

Birthday games for ages 10, 11, 12
Bubble Recipes for Preschoolers