Ugly Sweater Party Ideas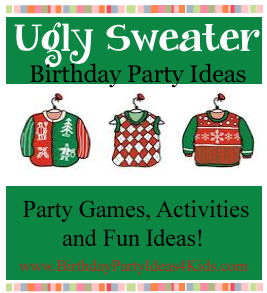 Ugly Sweater Party Ideas
An Ugly Sweater party is a great Holiday and Christmas time theme for boys and girls, kids, tweens, teens and adults.
In the invitation ask guests to dress in their tackiest, funniest and ugliest sweater for the party. Make sure to let them know there will be prizes for the ugliest sweater or outfit!
Ugly Sweater Party Activities
Ugly Sweater Contest
On the party invitation ask guests to dress in their ugliest sweater or outfit for the party. Once everyone arrives at the party have guests model their ugly sweaters and outfits for all the guests. Have a panel of judges decide the contest winners or designate numbers for each guest and have a secret ballot.
Give away funny prizes to the winners.
Here are some examples of winner categories:
Ugliest
Almost as Ugly
Funniest
Most Creative
Brightest
Strangest
Christmas Scavenger Hunt
Have the guests go on a Christmas scavenger hunt. Our Christmas scavenger hunt list has lots of fun items to find and is free to print out.
Christmas Lights Scavenger Hunt
A fun twist to a traditional Scavenger Hunt - teams are taken out in cars to find neighborhoods with holiday and Christmas light displays. Use our list of 50 items to find! Christmas Lights Scavenger Hunt
White Elephant Gift Exchange
Fun party game for all ages! Guests bring unwanted or funny gifts to the party and exchange them with other guests. Complete instructions and details on how to play the White Elephant party game.
Ugly Christmas Sweater party supplies from Amazon
Ugly Sweater Party Games
Snowballed
2 – 3 rolls of clear packing tape, lots of small prizes / wrapped candy. 2 dice
Players to try and unwrap the snowball while it is their turn.
Before the party start to make a large round ball (snowball!) by wrapping the packing tape around and around itself. When you have a round base, about 2" diameter, start to add candy and prizes one at a time as you wrap the tape around the ball. When you are done the ball should be large and have candy and prizes inside in layers.
Players sit in a circle and the ball is given to one player and the dice to the player next to them. On "go" the player holding the ball tires to unwrap the
tape to get to a prize. While the 1st player is trying to unwrap the ball the player with the dice is rolling over and over trying to get doubles. When the dice land on doubles the ball goes to the player that was rolling the dice and they begin to try and unwrap a prize. Players get to keep any prizes they unwrap. The dice are passed to the next person. This is a fun and fast paced game!
Freeze Out!

Ugly Holiday t-shirts, gallon Ziploc bags
Prep time the day before the party
The day before the party wet down the t-shirts with water and place in gallon size Ziploc bags. Fill the Ziploc bags with water, seal and freeze overnight. During the party break party guests into teams and give each team a shirt in a Ziploc bag. On "go" teams have to unfreeze the t-shirt by using only their hands, breath or bodies. The first team that unfreezes their shirt enough tso that one team member can put it on wins! place small toys inside an ice cube tray, fill with water and freeze. This game is fun and challenging!
For a quicker game or for younger children freeze small prizes in large ice cube trays overnight instead of using the t-shirts.



Christmas Antlers

Pantyhose / balloons (not inflated)
Split players into two or three teams and give each team a bag of balloons and a pair of pantyhose. The teams must blow up balloons and stuff them into pair of pantyhose. When the team feels their pantyhose antlers are complete, one person from the team puts on the pantyhose. The team with the best antlers wins!



Red Christmas Tree

36 Red Solo type plastic cups

One at a time, give a player 36 red solo cups to stack into a pyramid, or Christmas tree, and then take back down again.
For more holiday and Christmas themed games see our pages on:
30 Christmas Minute to Win It Games
Ugly Sweater Party Food Ideas
Hot Chocolate Bar
Set up a Hot Chocolate bar filled with different types of hot cocoa, candy canes, marshmallows, sprinkles, whipped topping cans, chocolate and caramel syrup, chocolate chips, etc. Let everyone make their own hot chocolate and enjoy it during the party.
Decorate Ugly Sweater Cookies
Make or buy cookies before the party using a sweater or shirt cookie cutter. Set out different colored frostings and sprinkles so that everyone can make their own ugly sweater cookie.
Ugly Sweater Party Favor Ideas
Candy Canes
Stocking filled with candy
Wrapped present - give out from a Santa sack at the end of the party
Christmas tree ornament
Santa hat
Light up Christmas necklaces
Jingle Bell necklaces