Sweet Sixteen Party Ideas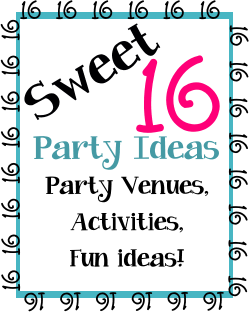 Sweet 16 Ideas


Fun Ideas for a
Sweet sixteen birthday party!
Sweet 16th party supplies from Amazon

Make the party special with fun games, activities and special things to make the party memorable.

A sweet 16 party deserves a special party! Here are our favorite ways to celebrate a Sweet 16 birthday with a home party, destination party or by checking off one item on their bucket list with a venue party.
At Home Sweet Sixteen Parties


Host a sweet sixteenth birthday at home with these great ideas! Start by choosing a favorite sweet 16 themes.
Or for more inspiration look into our 200 party themes to find something that fits the birthday girls personality and interests.
Sleepover and Slumber parties
A Sleepover is always fun to add to the Sweet 16 party. Decorate pillowcases, play truth or dare or play some fun games .... everything you need is in our Sleepover Guide . Including free Truth or Dare questions and dares to print out for the game of Truth or Dare.
Backyard Barbeque
Throw a fun backyard barbeque party complete with red and white checkered tablecloths, hot dogs and hamburgers, and fun backyard party games.
Pool Party
If you have a pool in your backyard (or know someone that does!) have a pool party with all your friends.
Use these pool party ideas and pool party games that can't be beat! (The frozen t-shirt game is one of the craziest and most talked about pool party game.
Cheap and easy and lots of fun!!)
Backyard Camping
Set up tents in the backyard and sleep under the stars. S'mores and hotdogs over a fire pit can't be beat for a sweet sixteen party.
Outdoor Movie
Hosting an Outdoor Movie party is fun and a great way to hang out with friends. Set up a large screen outside (you can hang a white sheet) and project a current movie or an old favorite like Sixteen Candles onto the big screen. Have guests gather around with sleeping bags, beach towels, lawn chairs or beanbags and have fun under the stars. String white lights in trees and around the party area to look like stars. Pop popcorn and serve in small tubs or brown bags, serve movie sized boxed candies, hotdogs, nachos and sodas.
Make A Sweet 16 Party Special
Jenga Memory
A fun way to remember the 16th birthday is to have guests write fun or sweet memories or things about the birthday girl on wooden jenga pieces with a permanent marker. Divide the jenga pieces among the party guests and have them write down a favorite thing or memory about the birthday girl. Then build the tower with jenga pieces and play the game. When a piece is removed from the tower read it aloud.
Big Letter Guest Book
Instead of having guests sign a guestbook before the party paint a large wooden letter of the birthday girls first name and set it on a table with some permanent markers. Have everyone sign it during the party. Then she can hang it up and remember her sweet 16 long after the party is over.
Sweet 16 Time Capsule
During the party have guests write down a fun memory they have with the birthday girl and also a prediction of what they think she will be doing / where she will be on her 21st birthday. Gather up the responses without reading them to the birthday girl and place them in a decorated time capsule (a jar or box with a lock) that she can open on her 21st birthday.
Candy buffet
Set up a fun candy buffet for party guests. There are many ways to set up a candy buffet - pick 16 of the birthday girls favorite candies and place them in different dishes and containers, or choose just one, two or three colors and choose candies that go with those colors. Or simply choose colorful candies or all types for a colorful set up. Provide scoops and spoons and small boxes or bags that guests can fill up with their favorites and take home as a party favor after the party.
Destination and Venue Parties
Choose a fun destination or Venue for the sweet 16 party. Here are over 30 of the best places to celebrate a sweet sixteen party:
Amusement Party
Spend the day at Six Flags or Disneyland (or your hometown amusement park) for a full day of fun!
Animal Lover
If the 16 year old is an animal lover then let them give back by helping the animals at their local Animal Shelter. With our fun Animal Shelter Helper party theme guests can collect items for the local animal shelter and then drop them off and help take care of the animals.
Use the FREE Animal Shelter Helper Scavenger Hunt
Aquarium
Most large cities have a big aquarium that is fun to explore with friends for your 16th birthday!
Arcade
Spend a few hours at a grown up arcade (like Dave and Buster's) and have dinner too!
Bowling
Bowling is fun and when you have all your friends together it can't be beat. For more fun see our Bowling party ideas page for fun games to play while you are bowling. Come up with fun awards for different categories like highest score, lowest score, most creative, most entertaining etc. and hand them out at the party.
Carriage Ride
Ride through downtown in a horse drawn carriage for an extra special sweet 16 memory.
Circus
If the circus is in town treat your friends to fun under the big top!
Day at the Mall
Spend the day at the mall with your friends. Make it extra special and fun with a fun Mall Scavenger Hunt game. Choose from 8 different scavenger hunts - all have free lists to print out and most don't require any money to be spent.
Mall Scavenger Hunts
Day on the Lake
A day filled with boating, jet skiing, water skiing or sunning. Bring along a picnic lunch for everyone to enjoy.
Escape Room
Spend some time with 7 - 10 friends solving clues on how to escape from a locked room.
Golfing
Rent golf carts and play a round of golf with friends. Or Top Golf is a great place for a group birthday party.
Gymnastics Gym
Rent out a gymnastics gym and let everyone tumble on the mats, use the trampolines and jump into the foam pits.
Hayride
If the sweet 16 party is during the fall find a local hayride for the party!
Horseback Ride
Go on a horseback ride to celebrate the 16th birthday in style. There are many stables that have 1, 2, or 3 hours rides available for groups.
Hotel Party
Spend the night with friends in a local hotel and swim in the pool or have a fun Mall Scavenger Hunt if it's located adjacent to the hotel. Relax with a movie and room service and then have breakfast the next morning in the hotel.
Indoor skydiving
There are many indoor skydiving venues that are great for parties.
Laser Tag
Fun for everyone!
Limo Ride
Rent a limo and have the party guests driven around town all night. Go for ice cream, dinner, and a fun party venue in style!
Mini Golf
Give out funny awards or prizes for the lowest and highest scores, most creative and most entertaining golfers.
Movie
Gather together at the movie theater for a special movie or new release. Is there a major movie coming out with a midnight showing? Even better! Then have a sleepover after the movie.
Paint Ball
Paint ball is a fun and active way to celebrate your birthday!
Painting Class
Paint a picture with your friends at a local painting party class.
Play / Musical
Enjoy a favorite Play or Musical that is in town for your birthday.
River Float
Spend the day floating down a lazy river on inner tubes and floats. Bring a picnic or stop in a local lunch spot.
Rock Climbing
Indoor or outdoor rock climbing is fun for everyone.
Ropes Course
Sign up your friends for a challenging ropes course and see who is the bravest! Great fun and will bond your friendships forever.
Sledding or Skiing
If you are close to a skiing resort or have a large hill around your town meet your friends for skiing or sledding and then have hot cocoa to finish off the party.
Spa Treatment
Relax with spa treatments, facials, pedicures, manicures or facials with your friends.
Special Restaurant
Invite friends to join you at a special restaurant for dinner and a fun time with friends.
Sporting Event
Attend a game of your favorite sports team and enjoy with friends.
Trampoline Park
Gather friends for a fun party at a trampoline park. Everyone loves trampolines!
Water Park
Spend all day at a nearby water park. Most have places and picnic tables to meet up for lunch and have birthday cake.
Weekend Getaway
Invite friends to join you on a weekend adventure to a beach or lake house, a cabin in the mountains, or a fun small town worth exploring.
Zoo
Explore your local zoo with friends. Most zoos have special tours that give groups a chance to see behind the scenes and feed some of the animals.
Bucket List Venue
Make the sweet 16 party truly memorable with one of these fun ideas to check off your bucket list.
Sky diving
White Water Rafting
Hot Air Balloon Ride
Surfing
Helicopter Ride
For more fun sweet 16 birthday party ideas, party games and activities see our 16th birthday ideas page.
Sweet 16 Songs - the best songs for sweet 16 parties!