Pizza Birthday Party Theme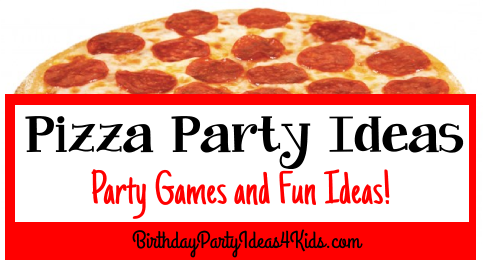 A Pizza Party is a great theme for kids, tweens or teenage birthday parties! Everyone loves pizza! Make the Pizza Birthday Party even more fun with these great ideas for Pizza themed birthday party games, decorations, sayings, and food ideas!
Pizza Party supplies from Amazon


Pizza Party Decorations

Cover a table with green, white and red plastic table covers. Blow up green red and white balloons into an arc over the table.
OR:
Cover party tables with red and white striped table covers. Purchase pizza-shaped balloons to cover the table.
You can find pizza-shaped balloons on Amazon or your local party store.

Above the table create a banner that reads "Bon Appetit" or "_____ pizzeria."
Buy paper chef hats at place them at each guests plate. Let guests wear them for the whole party and take them home as party favors!

On the table use red, green, white napkins and cups or use red and white checkered napkins and cups.




Fun Pizza Party Sayings:

Use as signs around the party room or food/dessert table or on your Pizza Party Invitations!
1. I love you to pizzas!
2. I want a pizza you!
3. You had me at pizza!
4. Stay cheesy!
5. Have a cheesy good time!
6. Have a supreme time!


Pizza Birthday Party Food Ideas


Cake: make a round vanilla cake. Cover the cake in red frosting. Next time to add the "cheese" you can use either shaved white chocolate or coconut depending on preference. Add your cheese to the top of the cake. Place red and brown M&Ms on the top of the cake. Serve the cake in a pizza box.

Make your own dessert pizza: take pieces plain sugar cookies and allow the partygoers to make their own pizza cookies. They can use icing and candy to make their own creation.

Purchase pizza from your favorite provider.



Pizza Party Games


1. Pizza Toss
You will need: Red Frisbees, 5 buckets of varying size and construction paper.
Decorate red frisbees with white paper and red circles to look like pizzas. Have the party-goers throw the frisbees into buckets set around the room/yard. The farther away from the bucket the more points they get. The person with the most points after 3 throws wins the game!


2. Pin the topping on the pizza
You will need: Construction paper, blind-fold, tape.

Cut out a white circle and place it on the wall. Give players 3 red circles. Blindfold them and spin them around 3 times. Whoever can place the most correct pepperonis on the pizza wins!


3. Pizza puzzle
Print out a picture of a pizza and cut it into different shapes. Scramble the pieces and separate the partiers into groups of 2. On the count of 3, the teams will work together to solve the puzzle. Whoever solves the puzzle the fastest wins!

4. Pizza charades
Put the partiers in groups of 2. Write down the name of a pizza (chicken pizza) the players will act out the type of pizza for 15 seconds. Whichever team has the most correct guesses wins!


5. Create a crazy pizza!
You will need:
Pizza kits (Crust, sauce, cheese, pepperoni.)
Weird ingredients (pickles, apples, chocolate, coconut, etc.)
Give the partiers pizza kits (crust, sauce, cheese, etc.) provide an assortment of weird ingredients (pickles, chocolate, fruit, etc.) give the players 30 minutes to create the craziest pizza that they can!

6. Blindfolded pizzeria
You will need:
Blindfold
Pizza kits (crust, sauce, cheese, pepperoni, etc.)
Separate the partiers into groups of 2. Blindfold one of the team members. The player that is not blindfolded will be in charge of telling the other team member how to make the pizza. The blindfolded member will follow the instructions given by their teammate to place sauce, cheese, and toppings on their pizza. Whoever has the best-looking pizza after 20 minutes wins!


7. Pizza box relay
You will need:
2 buckets each filled with 4 red balloons.
2 buckets each filled with 2 black balloons.
2 buckets each filled with 4 yellow balloons.
2 empty/clean pizza boxes.
Organize the party into two teams. Place in a relay line and give them the pizza boxes/buckets. On the other side of the room use an empty card table. When told GO! The first player will place the pizza box on their head and grab 1 balloon at a time. They will run across the room to drop the balloons off at their "pizza station" careful not to drop the pizza box on their head, if they drop the box the team has to start all over! Each team member will take turns bringing parts of their pizza to the pizza station. The team that gets all their ingredients to the table first wins!

8. Pizza scavenger hunt
You will need: Construction paper and2 Poster board.
Draw 1 pizza on each poster board. Cut out each slice and hide them around the room. Next Cut out red circles for pepperonis and hide those around the room. When told GO! Each team will search the room to find all their slices of pizza and the correct number of pepperonis. (depending on the number cut out. If you cut 4 for each team, then they will need to find all 4) Whichever team completes their pizza the fastest wins!
Activities:
1. Create own felt pizza. Purchase different colored felt sheets and allow the partiers to make their own pretend pizza.
2. Decorate their own pizza apron. Purchase cheap aprons at your local party store. Give the partiers fabric paint and allow them to decorate their own apron.


Pizza Party Favors and Take Home Ideas
Paper chef hats
Red and white kids size aprons
Pizza card game
Pizza erasers and pencils
Pizza stickers
Pizza gummi candies

No pizza birthday party is complete without a nice soda! Tie a small bag of sorted M&Ms (red, green, white,) to a bottle of preferred soda.

You can also include various pizza-themed items in the goody bag such as: Pencils, erasers, inflatable pizza slices, etc. Amazon has some great pizza birthday party favor options!