Candy Corn Party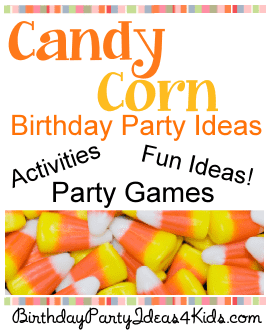 Candy Corn theme party ideas!
Fun ideas for party games, activities, decorations, and more ... all with a Candy Corn theme.
Great for Fall / Autumn parties
Candy Corn party supplies
from Amazon
Candy Corn Party Games
Chopstick Race
Chopsticks / Candy Corn / 2 Bowls per player
Give each player two bowls and a pair of chopsticks. Fill one of each players bowls with 25 pieces of candy corn. On "go" players transfer their candy from one bowl to the other using only their chopsticks.


Candy Tornado
Candy Corn / Empty 2 liter soda bottles / Masking or Duct Tape
Fill one of the 2 liter bottles with the candies – about 1/3 of the way full. Place the other 2 liter bottle so that the 2 bottles openings are together and tape them together. Use a stop watch or timer and see if a player can transfer all the candy from one bottle to the other in 1 minute.
Candy Corn Mummy
Crepe paper rolls in Orange, Yellow and White
Give each player three rolls of crepe paper. They must wrap the rolls around themselves to resemble a candy corn (yellow on the bottom, orange in the middle and white on top). The player with the shortest time wins! Hard and very funny to watch!
Candy Corn Stack
Candy Corn
Give each player a dish containing candy corn. Set a timer to 1 minute and see how many pieces of candycorn they can stand upright before time is called.
More
Fall theme games and activities
Candy Corn Party Activities

Candy Corn Counter
Plastic container with lid / Candy Corn / Paper / Pencils
Fill a clear plastic container with candy corn. While you are filling the container count the candy and write down the total number in the jar. Seal the container. While guests are arriving to the party ask them to guess how many pieces of candy corn are in the jar. Provide pencils and paper so they can write down their name and guess. At the end of the party read the guesses and see who is the closest to the number in the jar. Winner takes the jar home!
Fall Theme Scavenger Hunt
Set up a fun
Fall Neighborhood Scavenger Hunt
for party guests with a Fall theme! Our Fall Scavenger Hunt List has 30 fun Fall / Autumn theme items to find. Includes directions and set up instructions.
Candy Corn Party Decorations

Decorate in Orange, Yellow and White.
Transform objects into candy corn by painting or wrapping yellow, white and orange colored duct tape around jars, containers, pumpkins, etc.
Make an easy birthday banner from yellow, orange and white construction paper or scrap book paper - hang on a piece of twine over the mantle or party area door.
Fill different size glass jars with candy corn and place candles on top then set on the mantle or party table.
Yellow party hats can be easily made into candy corn by wrapping white and orange tape around the yellow hats.
Candy Corn Invitation Ideas
Make candy corn shape invitations from solid color yellow, orange or white notecards by cutting out a triangle shape from the cards and gluing pieces of scrapbook paper to the front to make a candy corn.
Candy Corn Party Favor Ideas
Painted pumpkins
Small bag of candy corn
Yellow, orange and white pencils
Candy Corn Goody Bag Ideas
Solid color orange small party bags with white and yellow curled streamers

More Fall Party Ideas
Fall Theme Minute to Win It Games