Bow Holder Party Craft
Make a hair bow holder as a birthday party craft for kids

This hair bow holder hangs on a wall and will hold lots of girls hair bows.

Clip the bows to the ribbon and it makes a great hair bow organizer.

Easy to make as a craft for birthday parties or sleepovers.
A craft and party favor all in one!

Supplies: Wide ribbon (at least 1" wide) - about 3 feet for each bow holder
Plastic bracelets or shower curtain rings Embellishments such as large flowers
Hot glue
Hot Glue gun

How to make it:
Cut lengths of ribbon about 3 feet long.

Place a little hot glue on the plastic ring and attach end of ribbon to the ring. Wrap the ribbon around the ring a few times and then hot glue ribbon in place.
(Or you can tie the ribbon onto the ring with a "larks head" style knot - fold the ribbon down at one end about 6" to make a loop. Place the loop through the hoop and then bring the bottom part of the ribbon through the loop. Pull tight.)
Fold the bottom end of the ribbon over and hot glue the two pieces of ribbon together to finish the end.
Hot glue an embellishment (like the orange flower in the pictures) to the top of the holder. Clip bows onto the ribbon and hang.
Fun ideas for a Sleepover or Slumber party!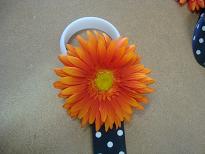 Birthday Party games for girls